The Golden Voyage of Sinbad
(1974)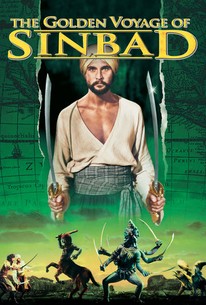 The Golden Voyage of Sinbad Photos
Movie Info
The second of special-effects wizard Ray Harryhausen's three Sinbad epics, this film finds the titular hero played by John Philip Law, while the principal villain, Koura, is portrayed by future Dr. Who Tom Baker. The plot sends Sinbad and his crew on a quest for a valuable and magical golden tablet. Harryhausen's "Dynamation" highlights include a six-armed statue, a one-eyed centaur and a flying griffin. Caroline Munro also stars. Golden Voyage of Sinbad was followed by Sinbad and the Eye of the Tiger (1979).
Critic Reviews for The Golden Voyage of Sinbad
Audience Reviews for The Golden Voyage of Sinbad
½
the film is grossly entertaining, i watched it with my sons and we really enjoyed the viewing experience. but this is all the film has going for it. the story is not pieced together with any creativity, the effects are terrible, and it was not quite as realized as it could have been. a fun but very poorly made film.
The second collaboration between Ray Harryhausen and Charles H. Schneer with the Sinbad franchise/fable. The first being a rollicking good yarn with some great actors (Thatcher) and the usual Harryhausen animated goodness, could this keep up that trend? (Personally I think Schneer had an Arabian fetish). Once again the plot is much the same as before with Sinbad sailing off into the wilderness to find an ancient mythical artifact of some kind. This time he's basically trying to find the fountain of youth amidst other various problems like needing three pieces of a puzzle to find its location. The usual soft core fantasy elements you come to expect. To cut the chase, in all honesty, this film kinda sucks. Yep I did just say that I'm sorry, let me tell you why. The problem is quite simply that nothing happens for almost the entire of this film until they reach the mysterious island of ideginous Hulk people. Yep that's right, all the natives are green coloured like the Hulk, with Lou Ferrigno type wigs but minus the muscles. The only thing to happen up to this point was the most dull action sequence ever where Sinbad fights a wooden figurehead off his own ship that has been animated by the evil wizard Tom Baker. Sometime after that we see the only sequences that keeps this whole adventure afloat, namely the epic animated battle with the Kali stone statue. Now although this sequence may not seem as renowned as the legendary skeleton warrior battle from 'Jason', for me its right up there for thrills, visuals and Harryhausen's skills. What is so impressive about this character is the sheer fluidity of animation on display, Ray even makes Kali do a little traditional dance before she leaps into battle. Yes its just one character compared to the seven skeleton warriors but it looks very realistic, very stone-like, and the six arms in motion is just damn amazing!, easily one of the best visual effects by Ray in my eyes. Once we have sat through the high of Kali things do get a bit flat again, the natives are revolting and Tom Baker's eyeliner grows weaker with each frame. As the story progresses we finally get a bit more action as a centaur pops up, albeit a rather sorry excuse for one, again with the cyclops idea?. Things perk up as this centaur must do battle against a griffin which is very well created, definitely a lifesaver for the film as so far only Kali looked any good. Now although this mythic battle isn't exactly epic it still manages to raise your interest, its animated well and the griffin looks terrific, just a shame the griffin is killed and everything goes back to being dull once again. Apart from Kali the only other thing to applaud in this film is the cast. Tom Baker becomes invisible towards the finale and looks like a bad Mortal kombat character but still manages to out act everyone else with his rasping accent and crooked smiles. To look at John Phillip Law is probably the most handsome Sinbad with the classic silver screen looks of a dashing 'Indy' type hero, his accent is also quite atrocious but that makes it even more enjoyable. And all the while the stunning Munro looks tanned and delicious with her skimpy Arabian attire, she doesn't really do much of course, she's merely there to be saved by our swashbuckling hero, this is 1973 you know. I did quite like the design of the golden mask worn by the 'Grand Vizier of Marabia', actually kinda cool in a '300' type of way. The moment when he removes his mask to reveal his burnt head is also a good moment, some pretty good makeup work there I must say, more gruesome than expected, a bit 'Jason Vorhees-like'. So yes this voyage for Sinbad was disappointing and rather unadventurous really. You do start to get the impression these Arabian tales don't really have anything else to offer other than the small Harryhausen sequences. There is quite literatly nothing on offer here accept for the two main battles involving animated Harryhausen creatures. The cast is great and the visuals all round look nice and atmospheric but overall it really is very daft (green Hulk natives) and bland (constant traveling sequences).
Phil Hubbs
Super Reviewer
½
Definitely one of the best Ray Harryhausen extravaganzas, with John Phillip Law running the show.
Tim Salmons
Super Reviewer
The Golden Voyage of Sinbad Quotes
| | |
| --- | --- |
| Koura: | He who is patient obtains. |
| | |
| --- | --- |
| Sinbad: | There is a quote I chose to believe: Trust in Allah, but tie up your camel. |
| Sinbad: | Trust in Allah, but tie up your camel! |