Gone With the Wind
(1939)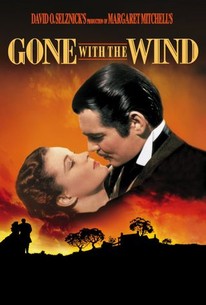 TOMATOMETER
AUDIENCE SCORE
Critic Consensus: Gone with the Wind's epic grandeur and romantic allure encapsulate an era of Hollywood filmmaking -- but that can't excuse a blinkered perspective that stands on the wrong side of history.
Gone With the Wind Photos
Movie Info
Gone With the Wind boils down to a story about a spoiled Southern girl's hopeless love for a married man. Producer David O. Selznick managed to expand this concept, and Margaret Mitchell's best-selling novel, into nearly four hours' worth of screen time, on a then-astronomical 3.7-million-dollar budget, creating what would become one of the most beloved movies of all time. Gone With the Wind opens in April of 1861, at the palatial Southern estate of Tara, where Scarlett O'Hara (Vivien Leigh) hears that her casual beau Ashley Wilkes (Leslie Howard) plans to marry "mealy mouthed" Melanie Hamilton (Olivia de Havilland). Despite warnings from her father (Thomas Mitchell) and her faithful servant Mammy (Hattie McDaniel), Scarlett intends to throw herself at Ashley at an upcoming barbecue at Twelve Oaks. Alone with Ashley, she goes into a fit of histrionics, all of which is witnessed by roguish Rhett Butler (Clark Gable), the black sheep of a wealthy Charleston family, who is instantly fascinated by the feisty, thoroughly self-centered Scarlett: "We're bad lots, both of us." The movie's famous action continues from the burning of Atlanta (actually the destruction of a huge wall left over from King Kong) through the now-classic closing line, "Frankly, my dear, I don't give a damn." Holding its own against stiff competition (many consider 1939 to be the greatest year of the classical Hollywood studios), Gone With the Wind won ten Academy Awards, including Best Picture, Best Director, Best Screenplay, Best Actress (Vivien Leigh), and Best Supporting Actress (Hattie McDaniel, the first African-American to win an Oscar). The film grossed nearly 192 million dollars, assuring that, just as he predicted, Selznick's epitaph would be "The Man Who Made Gone With the Wind." ~ Hal Erickson, Rovi
Critic Reviews for Gone With the Wind
Audience Reviews for Gone With the Wind
This immortal classic - the definition of Hollywood period epic - remains even today a splendorous spectacle that stands above most modern blockbusters with its astonishing production values and holds our full attention for almost four hours as we follow its two unforgettable characters.
Carlos Magalhães
Super Reviewer
Gone with the Wind is an epic drama that has its secured place in the history of cinema. With a grand story, standout performances and exceptional direction, this is one of the finest films ever made. With a simple story set amidst the Civil War that ravaged the U.S, the film is grand in scope and is highly engaging due to the chemistry of its two lead actors, Clark Gable and Vivien Leigh. This is a great movie because the story here are just so rich and simple in nature and the greatest movies use simple, yet emotional ideas to really tell a grand story. This is the case with Gone with the Wind. With a great cast at his disposal, director Victor Fleming, who also helmed the classic The Wizard of Oz has crafted something remarkable, and was able to take something limited, and make it broad, ambitious because it's a story set in a dark period of American history, and it gives the picture the setting for a simple story set amidst an ambitious period. The result is a masterpiece that evokes some of the finest acting and storytelling that has ever been committed to film. Aside from Casablanca, this is one of the finest romance films that has ever been made, and it is a film that is a must see movie for any serious film fanatics. Brilliant, enthralling and superb in every way, Gone with the Wind was one of the first grand movies to really establish film as significant art. Of course throughout this era there have been several standout movies that have defined cinema for what it is, but Gone with the Wind is one of the finest movies that has ever graced the screen. What makes this an engrossing picture is that there is so much emotion in the performances and since it's set during a dark part of American history, it just makes the subject that much compelling. Gone with the Wind is a long picture, one that you must really be committed to as it's nearly a four film, but the journey is worth it, and it never boring because there is effective drama amidst the war time setting, and we see plenty of the Civil War chaos as well. Don't pass this one up, it may be a long movie, but it's a cinematic milestone and one of the finest classics in movie history.
½
There probably isn't much new to say about a film coming up on its 75th anniversary, but I'll say this for it: even with its now unacceptable worldview - particularly in the way in which a man can treat a woman - Gone with the Wind delivers a dramatic, compelling story for nearly four hours, a feat few movies can even manage over 90 minutes these days. Its cinematography is magical, even if not as technologically advanced as ours, and as Scarlett O'Hara, Vivian Leigh plays the full range, from coldest ice to blazing fire, in a tour de force for the ages. Not to be outdone, Clark Gable succeeds in shifting our sympathies from Scarlett to him... OK, maybe Margaret Mitchell's plot did most of the heavy lifting on that front, but there's nothing that can detract from Gable's performance as a character we're supposed to dislike but end up charmed by. The final hour really accelerates the last pieces of the plot, so that the events seem contrived - Scarlett and Rhett become punching bags in the end, with all the misery that befalls them - but nearly every scene is gripping, with conversations that would never happen today but ring as true as they ever have. And I did like that the conclusion was unsettling, leaving Scarlett to carry on with her (possibly delusional) hope to continue improving her situation, regardless of what we now know about whether that would be a good choice for her. So, in all, it's a classic American epic that everyone should dedicate the time to at least once in their life - even if that means looking past (1) the general tone that a woman should be kept/put in her place, and (2) the contention that the pre-Civil War South, replete with slavery, was a way of life that should be mourned - and I think it deserves its reputation as one of the very greatest films ever made. It's a product of its time, and a damned fine one.
Daniel Perry
Super Reviewer
Gone With the Wind Quotes
| | |
| --- | --- |
| Rhett Butler: | Frankly, my dear, I don't give a damn. |
| | |
| --- | --- |
| Rhett Butler: | Frankly darling, I don't give a dame. |
| Rhett Butler: | Frankly darling, I don't give a damn. |
| | |
| --- | --- |
| Rhett Butler: | You should be kissed, by someone who knows how |
| Rhett Butler: | You should be kissed by someone who knows how. |
| | |
| --- | --- |
| Scarlett O'Hara: | As God is my witness, I'll never be hungry again. |