Good Bye, Lenin!
(2004)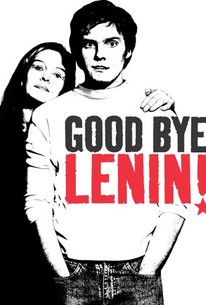 TOMATOMETER
AUDIENCE SCORE
Critic Consensus: Heartfelt and sly, Good Bye, Lenin! succeeds as a satire by foregrounding the personal before the political, yielding a charming comedy full of sociopolitical insight.
Movie Info
A dedicated young German boy pulls off an elaborate scheme to keep his mother in good health in this comedy drama from director Wolfgang Becker. Suffering a heart attack and falling into a coma after seeing her son arrested during a protest, Alex's (Daniel Brühl) socialist mother, Christiane (Katrin Sass), remains comatose through the fall of the Berlin wall and the German Democratic Republic. Knowing that the slightest shock could prove fatal upon his mother's awakening, Alex strives to keep the fall of the GDR a secret for as long as possible. Keeping their apartment firmly rooted in the past, Alex's scheme works for a while, but it's not long before his mother is feeling better and ready to get up and around again.
Critic Reviews for Good Bye, Lenin!
Audience Reviews for Good Bye, Lenin!
½
This film is billed as "hysterically historical". I found the film did not live up to that billing or the potential afforded by the film's concept. To me, the film was more a family drama come bildungsroman with occasional moments of light humor. It is acted well, with good sets and costumes. I enjoyed the film, but only once I abandoned my expectation of humor.
Christian C
Super Reviewer
Directors Lars von Trier from Denmark, Pedro Almodovar from Spain, Michael Haneke from Germany, Guillermo del Toro from Mexico and most recently Tomas Alfredson from Sweden are a handful of director's from across the globe that have cemented a fervent following worldwide. These are a notable bunch (and there are many others), so why is it then, that after this little gem of a film from 2003 that German director Wolfgang Becker hasn't made more of name for himself? If this film is anything to go by, he certainly deserves more recognition. In 1989, East German teenager Alex (Daniel Bruhl) feels liberated when the Berlin Wall comes down. His mother, however, is a staunch Communist, who would balk at the thought of westernisation. Just before the collapse of the wall, she has a heart attack and falls into a coma. When she awakens 8 month later and Germany now reunited as a country, Alex along with his older sister are advised by doctors to protect her fragile condition from any form of stress. As a result, they fabricate news bulletins and information to dupe their recuperating mother into believing German reunification never actually happened. With a music score by Yann Tiersen, who done the wonderful soundtrack to the 2001 French film "Amelie", you'd be forgiven for having similar feelings to that film while watching this. It's not just the music that they have in common though. They also share an inventive and highly original approach. This may not contain the fantasy elements of "Amelie" but it's delivered with such an offbeat creativity that it could hold it's own against (another notable director) Jean-Pierre Juenet's aforementioned delight. It has a great mix of humour and pathos with scenes of such tragic sadness combined with a wonderful lightness of touch and sharp observational humour. Despite the title of the film and the political setting of the story, this is essentially a coming-of-tale and less of a commentary on the demise of communism in East Germany. The fall of the Berlin wall serves only as a backdrop to the maturing of the young protagonist. So as not to ostracise his audience writer/director Becker wisely and cleverly, doesn't side with either East German communism or West German capitalism but instead, skilfully crafts a bittersweet satire and nostalgic tale of life from both sides of the country. He's also helped immeasurably by two emotionally understated performances from his lead actors; Daniel Bruhl and Katrin Saas. I was aware of this film when it was released but it should never have taken me as long as it has to get around to viewing it. Now, I'm just glad and hope that others don't make the same mistake of ignoring this profound and poignant pleasure.
Mark Walker
Super Reviewer
½
"The country my mother left behind was a country she believed in; a country we kept alive till her last breath; a country that never existed in that form; a country that, in my memory, I will always associate with my mother." In 1990, to protect his fragile mother from a fatal shock after a long coma; a young man must keep her from learning that her beloved nation of East Germany as she knew it has disappeared.
REVIEW
I know it takes a lot to tempt non-addicts into the cinema to see a foreign language film, but this is one that is worth it, honest. An improbably yet believable and endearing storyline, Goodbye Lenin gives you history, irresistible and original humour, and depth of human emotion, underplayed as in all good European cinema, that leaves you feeling more satisfied than if it were only for laughs. East Germany, shortly before the Berlin Wall goes down. A young man's mother has a heart attack and wakes up from a after the wall has come down. To prevent further shocks, her son and his friends arrange her flat to make her believe nothing has changed. Goodbye Lenin! is a triumph on so many levels, with the main - and most important - one being a complete surprise; the film, by the end, delivers an emotional wallop in the most subtle of ways, thanks to the brilliant screenplay, excellent direction and the perfectly nuanced performances from the two main characters, the son (the superb Daniel Bruhl, who reminded me of Jake Gyllenhaal) and the mother (the sublime Kathrin Sass, who reminded me of Patricia Clarkson). The entire movie is inspired, and I especially liked how the mother is never depicted as a victim, although she spends nearly the entire movie bed-ridden. This is yet another coup, in a movie that is literally filled with them. A beautiful film, and a valuable one.
Lorenzo von Matterhorn
Super Reviewer
Good Bye, Lenin! Quotes
| | |
| --- | --- |
| Alex: | She [Mother] missed how Ariane gave up her study of economic theory and had her first practical experience with the circulation of money. |
| | |
| --- | --- |
| Alex: | These are 30,000 East Marks! That was our money, for 40 damn years! Now you, you Western fuck, you want to tell me it's worth nothing?! |
| Alex: | These are 30,000 East Marks! That was our money, for 40 damn years! Now you, you Western fuck, you want to tell me it's worth nothing? |
| | |
| --- | --- |
| Alex: | The country my mother left was a country she had believed in, and which we kept alive until her last second. A country that in fact never existed like this. A country that in my memory will always be connected to my mother. |