The Good Earth
(1937)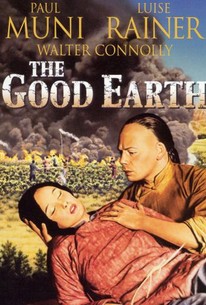 Movie Info
The Good Earth, based on Pearl Buck's sprawling novel, is the story of a Chinese farming couple whose lives are torn apart by poverty, greed and nature. For her portrayal of the wife O-Lan, Luise Rainer won the second of her back-to-back Best Actress Academy Awards, while cinematographer Karl Freund also took home an Oscar for his exquisite photography. The Good Earth is Irving Thalberg's final film production. Sadly, he died before it was completed.
News & Interviews for The Good Earth
Critic Reviews for The Good Earth
Audience Reviews for The Good Earth
½
Long and slow but entertaining if you stick with it. Muni as was his usual practice when buried under makeup slightly hammy but less so than when he played Zola or Pasteur. He does what he can to humanize a basically thoughtless, selfish and reprehensible man although he is not for one instant believable as an Asian. Someone who isn't hammy is Luise Rainer in a beautifully judged performance that won a richly deserved Oscar. She makes the rest of the sometimes ponderous film worth watching.
½
Holds fairly closely to Buck's novel. Sadly having most of the lead roles filled by non-Chinese actors such as Muni, Rainer, Connolly, and Grapewin shows the prejudices of the time. And yet Paul Muni and Luise Rainer were a couple of the most prestigious actors of the day. They bring the emotional heft of each scene to life as best they can, which is to say strongly. The Good Earth is kind of the flip side of the coin from The Last Emperor. The latter deals primarily with what goes on inside the palace walls, while the former is concerned with a family of peasants outside the walls. Both cover several decades of 20th century Chinese history, but Pearl S. Buck's tale does not feel like a history lesson. In this story one can observe some major events on China's timeline in the background, however it is about the common farmers and the love and trials of a husband and wife. Rainer and Muni excellently show how an arranged marriage in the old tradition can develop into a deep loving bond. Out of mother Earth a love can slowly grow like a tree.
Byron Brubaker
Super Reviewer
If you can get over the fact that a lot of the actors are Americans made up to look like Asians, you will enjoy this movie. It's a drama, but it's also the exciting journey of a man and wife. I really thought it was going to be boring, but the beginning slowly drew me into the lives of the characters, and I loved Rainer's performance, her character is so beautiful. It's not the best movie in the world, for instance, it could have had actual Asian actors, and more stars, but it's a good movie the way it is and I recommend it.
The Good Earth Quotes
There are no approved quotes yet for this movie.