The Good Father
(1986)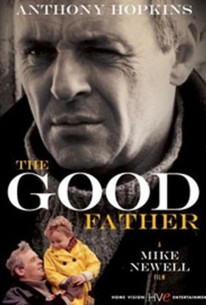 AUDIENCE SCORE
Critic Consensus: No consensus yet.
Movie Info
Anthony Hopkins stars in The Good Father as a publishing executive whose wife Julie Walters has left him, taking their son with her. Walking around like a zombie after this blow, Hopkins is brought back to life by involving himself in the profound problems of his friend Jim Broadbent. Feeling that his misguided pro-feminist stance has caused him all his trouble, Hopkins encourages Broadbent, whose own wife is leaving him with their son in tow, to fight for custody of the child in court. Hopkins even agrees to finance Broadbent's legal fees. As Broadbent's custody battle intensifies into a bitter, all-out war, Hopkins becomes more relaxed concerning his own domestic difficulties. Allowing Broadbent to be his emotional surrogate, a becalmed Hopkins feels secure enough to try to reconcile with his ex-wife Walters. But she is aware, even if he isn't, that his problems stem not from his relationship with women, but from his resentment of his son, whose birth was the beginning of the end of his marriage. Contrary to the title and his own self-deceptions, Hopkins is not "the good father." The film was scripted by Christopher Hampton from a novel by Peter Prince.
Critic Reviews for The Good Father
All Critics (4) | Top Critics (1) | Fresh (4) | Rotten (0) | DVD (2)
The Good Father is filled with great supporting performances to circle around Hopkins' energy.

Provides a riveting portrait of a sundered marriage and the fallout from separation.
Audience Reviews for The Good Father
½
In "The Good Father," Bill(Anthony Hopkins) would really like to spend more time with his son, even after his divorce, but his lack of lodging(he actually sleeps a lot of the time at his office) makes that kind of hard for Emmy(Harriet Walter), his ex-wife, to sympathize. So, instead of looking for an apartment, he takes up the case of his new friend Roger(Jim Broadbent) and his currently dormant custody battle. "The Good Father" is a damning and pointed look at masculinity run amok in Thatcherite England which was also a low point for the gay rights movement. Even though one might hope that some of the attitudes in the movie are dated, sadly that is not the case with so-called men's rights activists currently making the same kind of mess that Bill does in the film. And as Bill, Anthony Hopkins gives one of his best performances that is alternately angry, charming, creepy and somehow sympathetic. Plus, Simon Callow is having too much fun playing a lawyer.
The Good Father Quotes
There are no approved quotes yet for this movie.