The Good Girl
(2002)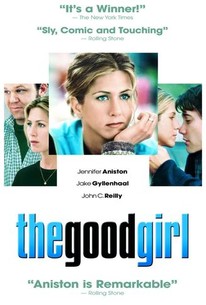 TOMATOMETER
AUDIENCE SCORE
Critic Consensus: A dark dramedy with exceptional performances from Jennifer Aniston and Jake Gyllenhaal, The Good Girl is a moving and astute look at the passions of two troubled souls in a small town.
Movie Info
Justine is thirty years old and works as a discount store clerk in Texas. Deeply unhappy in her marriage to a man who is infertile because of a dope-smoking habit, Justine soon begins an affair with Holden, the store's newly hired cashier and becomes pregnant. Holden, who has serious issues of his own, steals money from the store's safe for the two of them to run away, but the plan is short-lived when it takes a tragic turn for the worse.
News & Interviews for The Good Girl
Critic Reviews for The Good Girl
Audience Reviews for The Good Girl
½
First they made "Chuck and Buck" (2000). Two years later, screenwriter Mike White and director Miguel Arteta collaborated on "The Good Girl." The highly original and piercing "Chuck and Buck" is by far the better film, but "The Good Girl" has its charms, particularly a beautiful performance from Jake Gyllenhaal as a lonely, mentally unstable college student who calls himself Holden (after the protagonist in "Catcher in the Rye"). Jennifer Aniston, in her first and last interesting film role, plays the main character, a depressed, uneducated store clerk who has an extra-marital affair with Holden that goes awry. She is married to a brainless couch potato played by John C. Reilly. As you'd expect from this filmmaking team, there's much dark humor and deadpan comedy about small-town life. At times the spirit of Todd Solondz is channelled. But nothing really surprising or compelling is ever discovered about the characters, and the comedy grows thin after a half-hour. The actors walk around in a catatonic stupor, going way over the top to dramatize their characters' stagnation and mindlessness. I'm not sure why it's interesting to depict everyone in the heartland as retarded. It certainly bears no relationship to the reality of the heartland, where there is a lot more diversity than that. After a while, it just seemed like easy jokes perpetrated by artists who weren't really challenging themselves. You could think of "Good Girl" as the last mumble-core movie. I'm quite glad that this sub-genre is pretty much dead.
William Dunmyer
Super Reviewer
½
I didn't like it. It was so derivative yet miserable, so cheerless yet faux-introspective. Sometimes there were these departures into fantasy and I didn't know what to think of them.
Jennifer Xu
Super Reviewer
½
Jennifer Aniston impresses on this offbeat black comedy. Her low-pitched intensity evokes the seemingly demure Texan who secretly hates her life. The sausage-chain structure of short scenes makes the plot plod towards the end. But laugh-out-loud characters, like a sadistic make-up girl enhance a skillful portrait of a supposedly ordinary life.
Dean McKenna
Super Reviewer
The Good Girl Quotes
| | |
| --- | --- |
| Justine Last: | After living in the dark for so long, a glimpse of the light can make you giddy. Strange thoughts come into your head and you better think'em. Has a special fate been calling you and you not listening? Is there a secret message right in front of you and you're not reading it? Is this your last, best chance? Are you gonna take it? Or are you going to the grave with unlived lives in your veins? |
| | |
| --- | --- |
| Justine Last: | After living in the dark for so long, a glimpse of the light can make you giddy. Strange thoughts come into your head and you better think'em. Has a special fate been calling you and you not listening? Is there a secret message right in front of you and you're not reading it? Is this your last, best chance? Are you gonna take it? Or are you going to the grave with unlived lives in your veins? |
| | |
| --- | --- |
| Justine Last: | That day I read the story Holden had wrote for me. It was kinda different from the other ones but kinda the same. It was about a girl who was put upon, whose job is like a prison, and whose life has lost all meaning. Other people don't get her, especially her husband. One day she meets a boy who is also put upon and they fall in love. After spending their whole lives never getting got, with one look they get each other completely. In the end the girl and the boy run away together into the wilderness, never to be heard from again. |
| | |
| --- | --- |
| Phil Last: | I need to get stoned |
| Justine Last: | Okay. Get stoned. |
| Phil Last: | I just gotta escape, you know? You ever feeI Iike that? |
| Justine Last: | Yeah |
| Phil Last: | Like you gotta escape? |
| Justine Last: | Yeah, I do. |