Good Guys and the Bad Guys
(1969)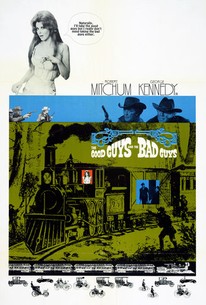 Good Guys and the Bad Guys Photos
Movie Info
In this comic western, Flagg (Robert Mitchum) is a veteran marshal forced to retire by the pompous Mayor Wilker (Martin Balsam). McKay (George Kennedy) is a wily gunslinger. The two combine forces to stop a young band of outlaws from robbing the train when it pulls into the station. Flagg warns the mayor of the upcoming attempt but is not taken seriously by the town politician. McKay and Flagg ride out to warn the train of the impending crime, which finds McKay facing members of his own gang in a traditional western showdown. David and John Carradine appear in this feature along with Tina Louise and Lois Nettleton.
Critic Reviews for Good Guys and the Bad Guys
Audience Reviews for Good Guys and the Bad Guys
Marshall Flagg is one of the last great marshalls around untill he is forced to retire by the town mayor that is until he hears his old enemy is in town a outlaw named McKaye lookin to rob the next incoming train once he captures McKaye he comes to see he isnt the big shot outlaw he once was and now there is a new generation of gunslingers that must be stopped and its gonna take McKayes help to do it. Very well done western funny at times will keep any fans of westerns interested until the very end. Stars Robert Mitchum George Kennedy and David Carradine as the young outlaw
Good Guys and the Bad Guys Quotes
There are no approved quotes yet for this movie.