Good Luck Chuck
(2007)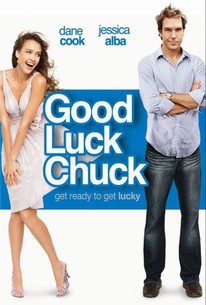 TOMATOMETER
AUDIENCE SCORE
Critic Consensus: A shortage of laughs and an undercurrent of mean-spiritedness undermine Good Luck Chuck, squandering a decent premise on gross-out humor and shopworn slapstick.
Movie Info
A serial dater afflicted with a lifelong curse of loneliness attempts to win the love of a clumsy but beautiful penguin expert in the one romantic comedy that proves true love never comes easy. As a ten-year-old boy, Charlie (Dane Cook), breaks the cardinal rule of spin-the-bottle by refusing to kiss a demented goth girl. Crushed by the disheartening snub and determined to ensure that Charlie never finds true love, the vengeful brooder places a hex on the cowardly rule breaker that follows him well into his adult life. Flash-forward 20 years, and Charlie is a successful dentist who just can't seem to maintain a stable relationship. Sure he's had his fair share of one-night stands, but these days Charlie is just looking to find a nice girl he can settle down with. One day, while attending an ex-girlfriend's wedding, Charlie realizes that every girl he has ever dated has proceeded to find true love with the very next man they've met. When word gets out that Charlie is something of a lucky charm for women looking to tie the knot, every women within a 100-mile radius comes calling for a one-night stand; and while taking a bevy of beauties to bed is fun for the time being, it doesn't take long for Charlie to realize just how empty sex can be without true love. Upon meeting hard-to-get aquatic bird specialist Cam (Jessica Alba), Charlie begins to suspect that he has found the woman of his dreams. Cam is the kind of woman whom Charlie would be happy to grow old with, but what will come of their relationship if Charlie and Cam sleep together? Now, in order to ensure that Cam doesn't end up with the next guy she meets, Charlie will finally attempt to break the curse that has plagued him since childhood. Perhaps with a little help from smooth-talking ladies' man and sympathetic best friend Stu (Dan Fogler), Charlie will finally be able to experience true happiness. ~ Jason Buchanan, Rovi
News & Interviews for Good Luck Chuck
Critic Reviews for Good Luck Chuck
Audience Reviews for Good Luck Chuck
A man falls in love just as he realizes that all his exes immediately find happy relationships after they date him. I find the premise of this film interesting and engaging. However, the execution leaves much to be desired. Rather than crafting a character who has some special insight or unique effect that allows his girlfriends to be emotionally prepared for a real relationship, the film resorts to some voodoo bullshit and devolves into a cliche sex comedy. There are a few moments when Charlie seems to have depth, but throughout most of the film his as plastic as Dane Cook's comedy act. Cam's character also deserves comment. She serves as a vessel for male interest. And that's all. She has quirks, demonstrated by her klutziness, but she's only klutzy when there's a bit; at all other times, Jessica Alba plays her as cute girl with a confidence and charm that belies the rest of the character. So as often happens, women in romantic comedies are devoid of personality, reduced to objects of male desire. Overall, this film could have been so good in the right hands, but it's not.
Jim Hunter
Super Reviewer
½
Good Luck Chuck is a bad comedy that has a few minor laughs, but ultimately fails in being an effective comedy. Dane Cook is a horrible comedian, and aside from his minor role in Waiting is definitely not funny. This film lacks anything original, interesting and truly entertaining. I found that this film was peppered with clichés and a poor plot, not to mention a bad cast. This is a film that is not worth seeing, and you'd be better off watching something else. Dane Cook's career as a comedian is a mess and he is one of the worst comedians that I have seen. He was humorous in Waiting, and aside from that, he never did anything worth seeing. His routine is just stupid gimmicks where he makes irritating noises. It's no wonder the guy fails as an actor, his delivery just doesn't cut it, and it becomes tiresome. Good Luck Chuck was a painful experience to sit through and in the long run, it is a highly forgettable film that is probably now sold in bargain bins. This might have been a film that could have worked if the cast would have been better, and it definitely needed a script rewrite with emphasis on writing better jokes. Dane Cook sucks and this film proves it yet again. The film like I said only has minor laughs, with most of the jokes falling flat and are unfunny to begin with. Skip this pointless, uninteresting comedy; you'll be glad you did. Good Luck Chuck is a horrible film that just doesn't deliver the comedy goods that a film with this sort of idea.
½
[My predicted rating: 2.5] This one was a great surprise to me, I was all set to watch a passable RomCom, but this was definitely a funny, albeit pretty crude Comedy. Dane Cook (not heard of before) was of course the star of this film, it was easy watching, cringeable in parts, corny but quite original.
Lady D'arbanville
Super Reviewer