The Good Shepherd
(2006)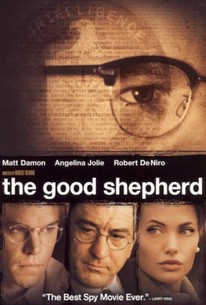 TOMATOMETER
AUDIENCE SCORE
Critic Consensus: Though ambitious and confidently directed by Robert De Niro, The Good Shepherd is ultimately a tedious drama that holds few surprises and succumbs to self-seriousness.
Movie Info
Edward Wilson understands the value of secrecy--discretion and commitment to honor have been embedded in him since childhood. As an eager, optimistic student at Yale, he is recruited to join the secret society Skull and Bones, a brotherhood and breeding ground for future world leaders. Wilson's acute mind, spotless reputation and sincere belief in American values render him a prime candidate for a career in intelligence, and he is soon recruited to work for the OSS (the precursor to the CIA) during WWII. As one of the covert founders of the CIA, working in the heart of an organization where duplicity is required and nothing is taken at face value, Edward's idealism is steadily eroded by a growing suspicious nature, reflective of a world settling into the long paranoia of the Cold War. As his methods are adopted as standard operating procedure, Wilson develops into one of the Agency's veteran operatives, all the while combating his KGB counterpart. However, his steely dedication to his country comes at an ever-increasing price. Not even his wife Clover or his beloved son can divert Wilson from a path that will force him to sacrifice everything in pursuit of this job.
Critic Reviews for The Good Shepherd
Audience Reviews for The Good Shepherd
½
For his second turn as a director, legendary actor Robert De Niro decided to make somehting that was apparently a big pet project and labor of love for him: a slow-burn spy drama (not thriller) about the early years of the CIA, as told through the life of a quiet, reserved, yet observant man named Edward Wilson. While supposedly claiming to give the true story of its subject matter, the film takes the approach of using composites, fictionalized names, and apparently altered details here and there, and does so using a near three hour run time, and unfolding at a very (very) slow-burning pace. The film jumps back in forth in time between the aftermath of the Bay of Pigs fiasco and everything leadng up to it starting in 1939, but despite these time jumps, and the fact that the film is so heavy on plot, it's actually far easier to follow ( if you pay attention) than most espionage type films. I loved that the film was focused on the Cold War, and the beginnings of the CIA, but I was somewhat let down by De Niro's approach. The film is light on frenetic action and violence, prefering to show a more classy and dignified origin story, and that's fine I guess, but the problem is that the film is really lethargic, depsite some violence here and there, there's not enough going on to keep the momentum up. I atually didn't find the film to be all that boring, but it is extremely long winded. And, though I'm okay with the "violence-lite" approach, I think the film could have had a few more scenes of action just so the film could have SOMETHING going on to keep the less patient viewers interested. I usually bitch about films that take on history that don't put it into a broader context, and while this film is one of those, it's still very academic in how it feels, IE it's less of a popcorn entertainer and more of a history lesson. I'd be more fine with this if the film could have avoided being as dry as its main character. The period details are impeccable though, and the film does have some wonderful cinematography, I just wish it could have been better paced. The film boasts an impressive supporting cast, with Matt Damon in the lead, Angelina Jolie as his lady, and, in supporting roles of varrying lengths, Billy Crudup, John Turturro, Alec Baldwin, William Hurt, and others, including a welcome, though underwhelming cameo from Joe Pesci. Damon is good. The character is supposed to be dry, closed off, and humorless, and he pulls this off, but unfortunately, though not Damon's fault, the character might be too closed off, too emotionally distant, and thus, really hard to know or care about. Jolie had potential to be a real spark and gives this film some needed energy and drive, and she starts that way, but her character soon fades into the background, and Jolie's talents quickly go severely misused. Of the supporters who have substantial screen time, I give the most props to Hurt. He's always (as far as I know) a solid, standup player. This film is perplexing. It's got an interesting story and subjext matter, but somewhat lackluster and tedious presentation. The cast is notable, but the performances are hit and miss and none of the characters are really as compelling as they should be. The film has great production values, but doesn't stand out the way it should. I am torn on this one. I didn't hate it, but I don't quite like it either. I actually am fascinated by it and the subject matter, and I have an odd kind of respect for it, even though I'm not fully on board. I'll just be nice and give it the rare thumbs sideways, as well as a mild recommendation (for a one time viewing only...and even then just for those who can appreciate a reserved, slow burning film that's heavier on atmosphere and ideas than developed and penetrable characters.
Chris Weber
Super Reviewer
Many spy films depict a life of easy affluence and an amusement park of thrills, but this one is far, far different. Instead an existence of miserable ever gnawing fear and isolation, masked beneath a cheesy veneer of " everything's all right", slowly choke even desperation away, leaving a pallid complacency. While admittedly not a work for everyone I found myself riveted.
Kevin M. Williams
Super Reviewer
I really enjoyed this movie. The movie was a mix of the orgins and the CIA and the consequences of life this man had to make to protect his country. The plot was genius, even if it did have some fake stuff from real life. There were intense moments, characters, and secrets. True it was too confusing and not a reall spy movie, and really long. But its a small price to pay to watch this classic.
Jim Careter
Super Reviewer
The Good Shepherd Quotes
| | |
| --- | --- |
| Bill Sullivan: | I don't want your answer now, just think about it. But this isn't a bunch of fraternity boys sitting around playing with their pricks... This is for real. For America. |
| | |
| --- | --- |
| Bill Sullivan: | We'll eventually get involved in this war. Not because we want to, but because we have to, and we should. And the President has asked me to look into creating a Foreign Intelligence Service. And if that happens, I'll be looking for patriotic, honorable, bright young men from the right backgrounds to manage the various departments. In other words, no jews or negroes and very few Catholics, and that's only because I'm a Catholic. |
| | |
| --- | --- |
| Valentin Mironov #2: | Soviet power is a myth. A great show. There are no spare parts. Nothing is working, nothing, it's nothing but painted rust. But you, you need to keep the Russian myth alive to maintain your military industrial complex. Your system depends on Russia being perceived as a mortal threat. It's not a threat. It was never a threat. It will never be a threat. It's a rotted, bloated cow. |
| | |
| --- | --- |
| Philip Allen: | Intelligence is their mother's milk and they don't like sharing the royal tit with people that don't have titles. |