The Good Thief
(2003)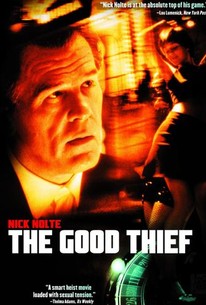 Movie Info
Set against the glitzy backdrop of the French Riviera, aging gambler Bob Montagnet is about to gamble it all on the casino heist of a lifetime; a spectacular sleight of hand--two heists, one real, one not, but which is which? Under the watchful eye of Roger, a policeman who would as soon save his longtime opponent as arrest him, Montagnet assembles a team that consists of partners Paulo and Raoul, technical mastermind Vladimer, former-drug-dealer-turned-informant Said, Anne, a young Eastern girl Montagnet rescued from prostitution, and the perfect complement to a double theft--identical twins Albert and Bertram.
Critic Reviews for The Good Thief
Audience Reviews for The Good Thief
½
A movie that tried really hard for the "cool" factor, complete with a "cool" french soundtrack. It's a decent watch. It may have been much better with a better lead? I wasn't buying the suave gambler/thief played by Nick Nolte..but that's just me, maybe. I'm not really a fan.
Cynthia S.
Super Reviewer
½
while the story was solid and the end was very good, the script was awful, the acting sub par, and the directing by niel jordan distractingly bad. some give and some take makes for an average film. great semi-cameo by ralph fiennes.
½
A stylish, tense, sexy and electrifying crime thriller. Explosive, smart, bold, funny and exciting. Nick Nolte has never been better. Gives his best performance in years. He just gets better as the years go on showing impressive and undeniable star power. A great cast of actors. Ralph Fiennes and Tchecky Kayrow turn in great performances. An totally enjoyable flick. A excellemt movie. It's one of those rare pieces of film noir that makes for good entertainment pleasure. A smooth, character-driven and absolutely exhilerating flick.
The Good Thief Quotes
There are no approved quotes yet for this movie.