Goodbye Charlie
(1964)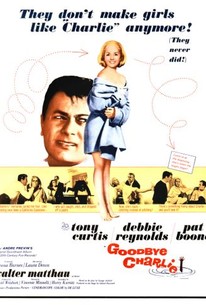 Movie Info
George Axelrod's Goodbye Charlie flopped on Broadway with Lauren Bacall in the lead, but fared a little better as a film vehicle for Debbie Reynolds. Charlie (Harry Madden) is an inveterate philanderer who is shot dead by jealous husband Walter Matthau. Through a celestial fluke, Charlie's soul enters the well-rounded body of Debbie Reynolds. In this form, Charlie/Debbie seeks to settle old scores with her murderer as well as several other enemies. As if these aren't complications enough, Charlie's best friend Tony Curtis falls in love with Debbie, knowing full well that Debbie isn't really Debbie. If you liked Goodbye Charlie once, you'll love it twice: Blake Edwards retooled the whole megillah for Ellen Barkin, added a trendy feminist underlining, and came up with Switch (1991).
Critic Reviews for Goodbye Charlie
Audience Reviews for Goodbye Charlie
Cinema great Vincent Minnelli directed this light appetizer about gender swapping. Within the early 1960's Hollywood community infidelity is rampant and no one is faulting one hack screenwriter Charlie Sorel, until a jealous husband (Walter Matthau, playing a Hungarian continental type playboy) catches him in the act and shoots him. Dead. Sorel's bestie (Tony Curtis) is surprised then when his life long buddy shows up again, reincarnated. As Debbie Reynolds. She's pretty good, too.
Kevin M. Williams
Super Reviewer
½
At times tasteless but generally breezy gender switching comedy and certainly better than the awful remake "Switch". Debbie is glamorous and ribald, Tony suitably exasperated and its interesting to see Ellen Burstyn this early in her career.
Goodbye Charlie Quotes
There are no approved quotes yet for this movie.