Goodbye Christopher Robin
(2017)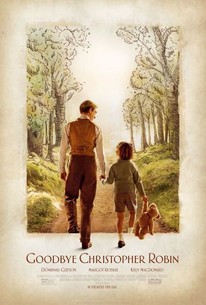 TOMATOMETER
AUDIENCE SCORE
Critic Consensus: Goodbye Christopher Robin struggles to balance wartime tension and childlike wonder, but offers valuable insight into the darkness shadowing the creation of a classic children's tale.
Goodbye Christopher Robin Videos
Goodbye Christopher Robin Photos
Movie Info
GOODBYE CHRISTOPHER ROBIN gives a rare glimpse into the relationship between beloved children's author A. A. Milne and his son Christopher Robin, whose toys inspired the magical world of Winnie the Pooh. Along with his mother Daphne, and his nanny Olive (Kelly Macdonald), Christopher Robin and his family are swept up in the international success of the books; the enchanting tales bringing hope and comfort to England after the First World War. But with the eyes of the world on Christopher Robin, what will the cost be to the family?
Critic Reviews for Goodbye Christopher Robin
Audience Reviews for Goodbye Christopher Robin
½
It's not very often that a true story is made into a film that not too many people are familiar with. Sure, many films have elements that most viewers weren't aware of, but when popularity overshadows the truth, sometimes it can be forgotten. Goodbye Christopher Robin tells a story that I believe everyone needs to witness. Yes, it can work as a story in its own right, but what it's based on and what came of it is truly worth knowing. Films like Detroit that follows the Detroit riots or Steve Jobs that follows the invention of Apple are very much in the public eye today, so films like that (although great) can be quite predictable, which is why I found this film to stand out among the rest. Here's why I believe this movie deserves more attention that it's receiving. After the first world war, Alan (a survivor of the war) moves to a house in the woods to regain peace with his family. Suffering from post-traumatic stress and sudden outbursts, it's tough for his wife Daphne and his son Christopher to be around him at times. After using some time to calm down, a few strolls in the woods with his son would eventually blossom into the invention of Winnie the Pooh and each of the secondary characters from the story as well. We see movies and television shows all the time, but what people hardly ever do is look further into how that specific story came to be. In the hardships of the war, the character of Winnie the Pooh, along with each story that was showcased throughout each episode made quite the impact on the war heroes of that time period. It brought happiness in times that demanded it, but all people know of the character today is that a group of animals entertain kids through a television. Sure, it does the same job as it did back then, but the making of these characters meant so much more in the past and I think more people need to witness this well-made picture. Domhnall Gleeson leads this film as Alan, but Margot Robbie and newcomer Will Tilston are just as relevant to the story, with Tilston being the most notable of them all. I've always been a fan of Gleeson on-screen, but his interaction with young Tilston truly made this film loveable from start to finish. Yes, there are some powerful moments of drama here and not everything about this story was all sunshine and rainbows, but the conclusion of this movie is sure to put a smile on your face. Although subtle, I think one of the main factors in what made this film so good was its visual storytelling. Yes, the ways that this father and son came up with certain characters' names or how a specific plot was developed was nice and felt a little nostalgic, especially to someone who watched these episodes as a kid, but the way scenery would change in order to incorporate moods or how the weather would change around them to show what they're imagining instead of just showing a dream sequence was fascinating. I thoroughly enjoyed nearly every aspect of this movie. At the very least, I can see people being pleasantly surprised at how much went on during the development of Winnie the Pooh. It just seems like a silly kid's show, but the family behind the story kind of blew me away. In terms of its screenplay, it felt a little formulaic, but I honestly don't have many more complaints other than that. The cinematography, direction, and performances all stood out to me in a positive way and I found myself in tears by the time the credits began to roll. This is an extremely well-made, heartfelt story worth experiencing.
A very interesting story about how Winne the Pooh was created. It offers quite a lot of depth into how the characters and story were formed as a source of happiness after the first world war.
Ian Walker
Super Reviewer
½
For as long as I could remember, 'Winnie the Pooh' has always been a figurement of my childhood. 'Goodbye Christopher Robin' tells us about the enchanting story of how the most beloved children's book ever written came to life from A.A. Milne's recovery from serving in WWI to the growing relationship he has with his son upon trying to write something as form of inspiration. What we can say from this story overall; is that such a creation inspired from the world of childhood imagination can bring a great certainty of happiness and light when darkness as chaos overshadows the world when war breaks out. It's also an endearing tale of how one's creation defines the life of such an individual like A.A. Milne's son, who became too much of a child celebrity, it took away from what he knew of the world, even harder when the boy continued to grow up. Nonetheless, I was fully invested from start to finish in this fine film with the entirety of the characters and the plot shedding some much needed light on how such a beloved creation became a huge happy beacon in a world that had almost forgotten it due to the tides of war. The direction and cinematography were also fine as were the gifted performers, especially Will Tilston as the young C.R. Milne (or Billy Moon as he's called). It made me laugh and sob at times though, I highly recommend it as one of 2017's most endearing and eye opening films.
Luke Eberhardt
Super Reviewer
Goodbye Christopher Robin Quotes
There are no approved quotes yet for this movie.