Goodbye, My Fancy
(1951)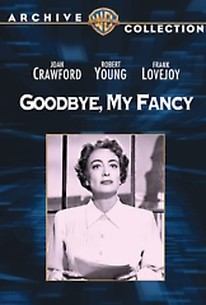 AUDIENCE SCORE
Critic Consensus: No consensus yet.
Movie Info
Based on a play by Fay Kanin, this comedy drama centers on a successful congressman's painful but triumphant journey back to her alma mater, after they offer her an honorary degree. She has not been back since she was shamed and expelled for spending the night with a new professor twenty years before. Since she left, her former beau has been appointed president of the school, and despite the surrounding circumstances, she is anxious to see him. Meanwhile, a newspaper reporter, who is hopelessly in love with her, follows her and tries to get her to marry him. But her eyes are firmly gazing towards the past and she spurns him until they all get involved in a crusade to update the school curriculum; it is then that she realizes which man she really wants.
Critic Reviews for Goodbye, My Fancy
Audience Reviews for Goodbye, My Fancy
Something different for Joan playing a congresswoman who spends a weekend at her old college on a bittersweet journey. Originally intended for Rosalind Russell who had to bow out at the last minute, the part and Crawford aren't a perfect fit but it's nice to see her try something different. She does a good job and is surrounded by an excellent cast although Frank Lovejoy is likewise not an ideal choice for his role. While all the performers do well two really stand out, Eve Arden is her usual sharp self as Joan's Girl Friday but it's Lurene Tuttle who steals every second of her screen time as a seemingly flighty old chum who is more than meets the eye. Mixed in with the romance are some trenchant points about censorship and the fallacy of memory.
Goodbye, My Fancy Quotes
There are no approved quotes yet for this movie.