Goon
(2012)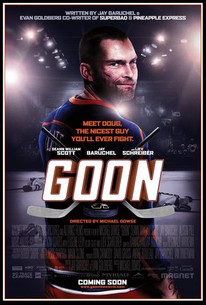 Movie Info
Not content with his job as a bouncer at a local Beantown bar and a bit of an embarrassment to his accomplished family, Doug Glatt (Seann William Scott) dreams of the kind of success enjoyed by minor league hockey goon Ross Rhea (Liev Schreiber). When a chance encounter with an on-ice thug leads to a bloody fist fight that Doug easily wins, the coach of the Halifax Highlanders sees potential in this mammoth sized man who is only hampered by his lack of any hockey playing ability and his brother's old figure skates. Standing up to the taunts of the other players, Doug manages to join the team, and with the encouragement of his hockey obsessed best friend (Jay Baruchel) quickly becomes a rising star. Soon he'll have the opportunity to face off against Ross "The Boss" Rhea and perhaps finally land a girlfriend. Now - all he needs is to learn how to skate. -- (C) Magnolia
News & Interviews for Goon
Audience Reviews for Goon
When it comes to Canadian cinema, there are very few wide releases in a year. Aside from films like Bon Cop Bad Cop or The Sweet Hereafter that have gained a cult following, there isn't much of a draw to Canadian films. On a shoestring budget, Goon was released back in 2012, and while it was not regarded as a box office success, its cult following became fairly large upon its home release. Not only is this a solid Canadian film, but its a solid film in general. Sure, it embraces the fact that its Canadian and exploits the use of hockey, the term "eh," and being extremely polite and apologetic, but when you're making a Canadian film about hockey, why wouldn't you just go all out. Here is why I think Goon demands your attention if you haven't seen it. Sean William Scott has went off the radar after his stardom in the late 1990s and early 2000s. Starring in hits like American Pie and Dude, Where's My Car?, many people quite enjoyed his presence on-screen. That being said, this is by far the best performance I've ever seen him give. Goon follows Doug Glatt (Scott) as he is recruited by a local OHL hockey team for being a fantastic fighter. He can't skate, he is ridiculed, and his teammates can't even believe he was asked to be on the team. Being very useful when needed, the team begins to come around on him and he may just be what they needed to make the playoffs after all. It's about as Canadian as Canadian stereotypes get, but this film makes it work so well. With such a simple premise, there needs to be a villain that really gives our hero a run for his money. Hoping to fight the best of the best, Doug will do everything he must, including fighting the champion in Ross Rhea. Although he doesn't have a lot of screen time, Liev Schreiber and Sean William Scott have some very believable chemistry here. Throughout the film you will most likely be focussing on the character arc of Doug, but you will also be long-awaiting the showdown between these two goons on the ice. The wait is more than worth it and I found myself engaged in this film from beginning to end. The fight itself isn't the reason I enjoy this film so much though, but the undeniable likability of the central character. Rough and tough, Doug Glatt is one hell of a fighter on the ice, but it really is about the humanity of his character. How is as polite as can be off the ice and pretty dim-witted out in the real world. These characteristics are truly what make this film so likeable. Sean William Scott's portrayal of this character is absolutely gut-busting and I found myself laughing throughout every single scene he was present in. Goon is by no means a groundbreaking comedy, but it's easily one of the best films to come from Canada in the last decade or so. In the end, a film like this wouldn't have been as authentic as it was without an actual Canadian hand in the mix. Written by Jay Baruchel, he also plays Doug's best friend throughout the film, and while he is just present to make audiences laugh, he does serve the purpose of giving his friend the much needed confidence on the ice. Cleverly written, well-directed by the man behind films like The F Word and Take Me Home Tonight, and having a sense of humanity and heart along with some pretty gut-splitting comedy, Goon is easily one of my favourite Canadian films. I really do think this is the best comedy revolving around hockey since the original Slap Shot. It's pretty straight forward when looking back on it and some of the jokes are very one-note, but the story is cared for and the end product is great. I highly recommend Goon.
½
A nice guy with a heart of gold, a boy scout nearly, has one remarkable talent: the ability to bring the ultra-violence. Scott plays this believably, and thus the gorefest that follows is forgivable, and thus the sneaky charm of this work. The cast are all given room to inhabit their characters and so the audience is allowed to root for the near mindless violence ladled out before us. Friggen insidious.
Kevin M. Williams
Super Reviewer
I'm sure the story of this film is pretty good, but I could not get through the first quarter because of the copious amount of swearing. I'm pretty open-minded when it comes to stuff like that and I don't recall ever not finishing a film, but this was so over the top it was distracting to the point of annoyance.
Goon Quotes
| | |
| --- | --- |
| Eva: | You make me want to stop sleeping with a bunch of guys. |
| Doug Glatt: | That's the nicest thing anyone's ever said to me. |
| | |
| --- | --- |
| Doug Glatt: | Pat: 69! Take the number 69 it's hilarious |
| Doug Glatt: | 69! Take the number 69. It's hilarious |
| Doug Glatt: | 69! Take the number 69. It's hilarious. |
| Pat: | 69! Take the number 69. It's hilarious. |
| | |
| --- | --- |
| Doug Glatt: | I think I nailed him. |
| | |
| --- | --- |
| Ronnie Hortense: | Good skills.. Too bad those are your own guys you just fucked up |
| Ronnie Hortense: | Good skills. Too bad those are your own guys you just fucked up. |