The Goonies
(1985)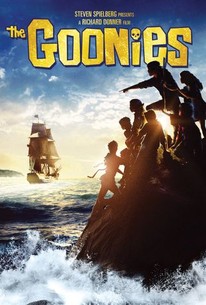 TOMATOMETER
AUDIENCE SCORE
Critic Consensus: The Goonies is an energetic, sometimes noisy mix of Spielbergian sentiment and funhouse tricks that will appeal to kids and nostalgic adults alike.
Movie Info
Leonard Maltin wasn't alone when he noticed similarities between Goonies and the 1934 Our Gang comedy Mama's Little Pirate. Adapted by Chris Columbus from a story by Steven Spielberg, the film follows a group of misfit kids (including such second-generation Hollywoodites as Josh Brolin and Sean Astin) as they search for buried treasure in a subterranean cavern. Here they cross the path of lady criminal Mama Fratelli (Anne Ramsey) and her outlaw brood. Fortunately, the kids manage to befriend Fratelli's hideously deformed (but soft-hearted) son (John Matuszak), who comes to their rescue. The Spielberg influence is most pronounced in the film's prologue and epilogue, when the viewer is advised that the film's real villains are a group of "Evil Land Developers." The musical score makes excellent use of Max Steiner's main theme from The Adventures of Don Juan, not to mention contributions by the likes of Richard Marx and Cyndi Lauper. ~ Hal Erickson, Rovi
News & Interviews for The Goonies
Critic Reviews for The Goonies
Audience Reviews for The Goonies
What it lacks in script, it more than makes up for in grand, perilous structure and heartwarming adventure. The Goonies is a classical combustion of laughter, discovery and booty (I mean, booby) traps. The cast and sequences are just as memorable and dynamic as its storytellers in Spielberg, Donner & Columbus. 4/5
Eugene Bernabe
Super Reviewer
½
So freakin' stupid. The exposition sets up all the boys' distinct personalities, only to squander the rest of the movie with unmotivated action and bland yet frantic adventure. None of the boys' traits really play into the solving of the puzzles except the stereotypical techie Asian's. Mikey's dweeby hamartia of asthma doesn't even provide an obstacle or suspense. Stuff happens to the boys, and nothing is too dangerous or scary to warrant any real emotional investment in their journey. Also disappointing, much like with "Nobody puts Baby in the corner" and "You're killing me, Smalls," quotable gems like "Goonies never say die" and "Sloth loves Chunk" are completely lackluster in context. As for the former, I expected it to be a real club philosophy, a rallying battle cry born of a previous adventure during which they almost died but didn't, therefore cementing their stalwart courage in the face of certain death! "Goonies never say die" is only said once as a throwaway line without set-up or follow-up. As for the latter, could Sloth BE more disturbing as a child's nightmare come to life? He's the monster with soul, but the love is just played for laughs instead of true pathos.
Alice Shen
Super Reviewer
½
Classic 80s adventure comedy with that certain suburban Spielberg feeling that will never fail to entertain on a rainy Sunday afternoon.
The Goonies Quotes
| | |
| --- | --- |
| Chunk: | But the worst thing I ever done - I mixed a pot of fake puke at home and then I went to this movie theater, hid the puke in my jacket, climbed up to the balcony and then, t-t-then, I made a noise like this: hua-hua-hua-huaaaaaaa - and then I dumped it over the side, all over the people in the audience. And then, this was horrible, all the people started getting sick and throwing up all over each other. I never felt so bad in my entire life. |
| Jake: | I'm beginning to like this kid, Ma! |
| | |
| --- | --- |
| Mikey: | What about the loot? |
| Brand: | What about our lives? |
| | |
| --- | --- |
| Mikey: | How long have you guys been standing there? |
| Brand: | Long enough, Mikey. Long enough. |
| | |
| --- | --- |
| Mikey: | What about the loot? |
| Brand: | What about our lives? |