Gorgo
(1961)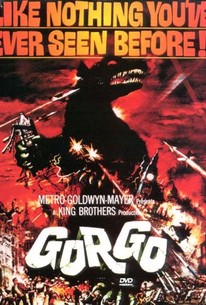 AUDIENCE SCORE
Critic Consensus: No consensus yet.
Movie Info
When Gorgo, a huge prehistoric sea creature, is captured and exhibited in London by money-hungry businessmen, his enormous mother comes looking for him, leaving death and destruction in her wake.
Critic Reviews for Gorgo
All Critics (4) | Fresh (3) | Rotten (1) | DVD (2)
Women are absent from 'Gorgo' because the title beast proves to be the biggest mother of them all, literally. The entire movie is constructed around a feminine presence that is destructive and wrathful but also righteous.
Okay giant monster flick
August 7, 2002 | Rating: 3/5
Godzilla knockoff flattens England.
February 13, 2001 | Rating: 62/100
Audience Reviews for Gorgo
½
In the mid-twentieth century, Britain was experiencing unprecedented levels of immigration, mainly as a result of it's colonial past. Many of these immigrants came from Ireland and were met with hostility, just like Gorgo and his parent. If "Godzilla" was Japan's reaction to the nuclear attacks on Hiroshima and Nagasaki, "Gorgo" examines colonialism, immigration and the death of a super-power. When the giant creature topples British icons like Big Ben and Picadilly Circus it's a cinematic echo of the rapid dismantling of the British Empire. For the first time in it's history, Britain was becoming insignificant, dwarfed in reality by the new powers of America, Russia and Japan and on screen by the towering figure of Gorgo's angry Mother. Director Lourie had good preparation for this film having earlier made "The Beast From 20,000 Fathoms" a similar yet superior tale of a disturbed creature running amok on a major city. Although it's the cheap trick of a man in a suit rather than the more aesthetically pleasing stop-motion technique, the effects are very impressive for the time. The destruction of London is far more realistic here than that of Tokyo in the many man-in-rubber-suit Kaiju flicks to come out of Japan's Toho studios. As an Irishman I'm frequently amused by the many failed on-screen attempts to convey my accent. Even Irish actors don't seem capable of pulling off a convincing brogue. Some of the worst I've ever heard can be found in this film. The island Gorgo emerges from seems awfully multicultural as the local accents range from Scottish to Welsh to American to English. If you're a monster movie fan this one should be on your list if for no other reason than to experience a very British take on the genre.
The Movie Waffler
Super Reviewer
½
Britain's answer to Godzilla. Should have been titled "Gorgo's Mother" because it's his mum who actually wreaks the most havoc.
Randy Tippy
Super Reviewer
Gorgo Quotes
| | |
| --- | --- |
| Joe Ryan: | [During a scuba dive, the men glimpse Gorgo and hurriedly return to the boat] What did you see, Sam? |
| Sam Slade: | I don't know. But whatever it was, I never want to see it again. |