GORP
(1980)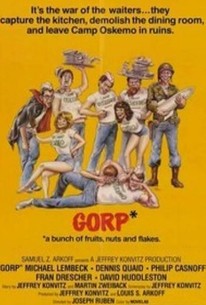 AUDIENCE SCORE
Critic Consensus: No consensus yet.
Movie Info
Chaos reigns in the Catskills in this low-budget teen comedy. Kavell (Michael Lembeck) and Bergman (Philip Casnoff) are college students who spend their summers working in the dining hall at Camp Oskemo, an upstate New York summer camp where they're the senior waiters. Serving food to bratty children doesn't interest them nearly as much as trying to make time with the female counselors at the camp, among them pretty but chaste Vicki (Lisa Shure) and attractive but significantly less virginal Evie (Fran Drescher). Kavell and Bergman also wage an annual war against the junior waiters with the help of deranged server Grossman (Dennis Quaid), but their real nemesis is Wallman (David Huddleston), the owner of the camp who makes no secret of his dislike for the waiters. Over the course of one eventful summer, Kavell, Bergman and their fellow food slingers dose the entire camp with amphetamines, taint the Kosher meals with pork, screen pornographic movies during Parent's Weekend, run a tank through the campgrounds and destroy the waiter's housing and most of what surrounds it. Hilarity, or something like it, ensues. While seemingly influenced by Meatballs, Gorp was actually shot at roughly the same time as Bill Murray's summer camp vehicle, though it was released nine months later. Director Joe Ruben later went on to better things, including True Believer, Sleeping With The Enemy and The Forgotten.
Critic Reviews for GORP
All Critics (3) | Top Critics (1) | Fresh (0) | Rotten (3)
It confuses vulgarity with humor, a problem of epidemic proportions these days.
Witless and puerile on every conceivable level, this offered early roles to Dennis Quaid (terrible), Fran Drescher (passable) and Rosanna Arquette (negligible).
The raunchy camp comedy Gorp, the last film released by American International Pictures, features almost all of the ingredients in Samuel Z. Arkoff's formula but is empty in cinematic nutritional value.
Audience Reviews for GORP
½
Another summer camp movie, and this may be the worst one of them. I saw this on TV, and all I saw were average teens doing normal summer camp stuff, with no trace of a story or basic plot. I couldn't stand watching it.
Cast: Michael Lembeck, Dennis Quaid, Philip Casnoff, Fran Drescher, David Huddleston, Rosanna Arquette, Lou Wagner, Richard Beauchamp Director: Joseph Ruben Summary: College students Kavell (Michael Lembeck) and Bergman (Philip Casnoff) spend a summer waiting tables and creating havoc at an upstate New York summer camp, aided by their unbalanced fellow waiter Grossman (Dennis Quaid). Their antics include drugging the campers and driving a tank through the camp. Meanwhile, they battle the junior waiters and try to make time with female counselors Vicki (Lisa Shure) and Evie (Fran Drescher). My Thoughts: "I found this movie to be silly and funny. Has some very unique characters. Dennis Quaid had to be my favorite of the bunch. His character was a bit insane. I also loved the wino in the film. Him playing cards with himself was quite amusing. It was nice seeing Fran Drescher in a younger role as well. Love the 80's, the films and the music of the area. Just a fun watch. The kind of film where you can just shut the brain off and enjoy the silliness of it."
♥˩ƳИИ ƜѲѲƉƧ♥
Super Reviewer
½
GORP is basically your typical raunchy sex-comedy except it was made decades before the genre came too have the big box-office success that most have today. The film features a very young Dennis Quaid, and Fran Drescher and also has Rosanna Arquette in her first starring role. GORP is a laugh a minute riot, and is really a hidden comedy gem with some pretty raunchy stuff even by today's standards. So if you like your comedies completely out there and utterly absurd then GORP is the movie for you...
Jason Reneau
Super Reviewer
GORP Quotes
There are no approved quotes yet for this movie.