Gosford Park
(2001)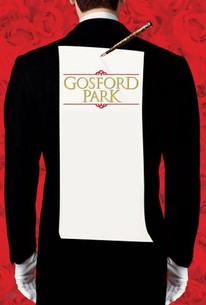 TOMATOMETER
AUDIENCE SCORE
Critic Consensus: A mixture of Upstairs, Downstairs, Clue, and perceptive social commentary, Gosford Park ranks among director Altman's best.
Movie Info
Maverick American filmmaker Robert Altman takes a witty and absorbing look at the foibles of the British class system in this intelligent murder mystery set in the early '30s. Sir William McCordle (Michael Gambon) and his wife Lady Sylvia (Kristin Scott Thomas) are a pair of wealthy British socialites who have invited a variety of friends, relatives, and acquaintances to their mansion in the country for a weekend of hunting and relaxation. Among the honored guests are Constance (Maggie Smith), Lady Sylvia's matronly aunt; Ivor Novello (Jeremy Northam), William's cousin who is also a well-known actor and songwriter; and Morris Weissman (Bob Balaban), an American film producer who is friendly with Ivor and researching an upcoming project. Observing the proceedings are the domestic staff of the mansion, including imperious butler Jennings (Alan Bates); footmen George (Richard E. Grant) and Arthur (Jeremy Swift); Probert (Derek Jacobi), a valet to Sir William; housekeeper Mrs. Wilson (Helen Mirren); Mrs. Croft (Eileen Atkins), who oversees the kitchen; and Elsie (Emily Watson), a maid. Also on hand are the guests' personal servants, including Mary (Kelly Macdonald), Constance's maid; Henry (Ryan Phillippe), Weissman's valet; and Parks (Clive Owens), a butler. While the servants are required to display a high level of decorum, they are expected to be passive observers who do not comment on what they see, though the gossip among them travels thick and fast once they retire to the servants' quarters downstairs. And it turns out that there's plenty worth gossiping about, especially after Sir William turns up dead, and everyone is ordered to stay at the mansion while the police investigate the killing. Gosford Park also features Charles Dance, Tom Hollander, Natasha Wightman, and Ron Webster; the screenplay was written by Julian Fellowes, based on a story by Altman and co-star Bob Balaban. ~ Mark Deming, Rovi
Critic Reviews for Gosford Park
Audience Reviews for Gosford Park
[img]http://images.rottentomatoes.com/images/user/icons/icon13.gif[/img]
Directors Cat
Super Reviewer
Mrs. Wilson: I'm the perfect servant; I have no life.  "Tea At Four. Dinner At Eight. Murder At Midnight." Well Gosford Park wasn't as amazing as I hoped it would be. It's packaged as a murder mystery, but really all it is, is servants gossiping about the higher class and the higher class gossiping about their fellow higher class. The whole murder thing only takes about an hour of the movie, and even then it doesn't really drive the film.  The first hour and fifteen minutes of the film is devoted to getting to know the huge cast of characters. There's so many characters to keep track of. You got all these servants and maids, and then there's all the higher class. No wonder so much time had to be devoted to character development, there's just so many of them. We get to see the life of both the upper class and servants during a weekend stay at a rich mans house. Then the man whose house everyone is at is killed and a detective is brought in, who ends up questioning a lot of people. The movie didn't play out like your standard dinner party murder mystery, where someone is killed and everyone stands around in a big group and tries to figure out who did it. It's grounded, for better or worse, in reality.  What makes this movie a worthwhile film is a huge and talented cast. Maggie Smith, Clive Owen,  Helen Mirren, Ryan Phillipe; and the cast goes on and on and on and on. My favorite performance came from one of the smaller names, Kelly McDonald who plays a maid and is the one who actually pieces the whole thing together and figures out what happened. The performances go a long way in keeping this slow meandering plot going.  I can't say whether I liked this or not. I liked the idea of it and the acting was outrageously good. In the end though, I was left sort of underwhelmed. Hardcore Altman fans are probably in love with this film, but for me, it's just another movie, albeit with one of the best ensemble casts ever configured. Whether or not you'll like it will depend on your ability to watch really talky movies and still find it intriguing. I normally can, but by the hour mark I was kind of ofer the whole gossip thing.
Melvin White
Super Reviewer
Excellent movie! One of the best period pieces I've seen in a while.

One of the best and most noticeable features of this film is great cast. There are so many big names in this film, British names to be specific...in fact basically every English actor is in this. With this in mind, I had high expectations. The cast delivered. This film is wonderfully acted, with excellent performances from everyone, especially Maggie Smith, Helen Mirren, Kristen Scott Thomas, and Emily Watson.

Another thing that really stuck out to me was how solid of a period piece this is. The film studies the British class system of the 1930's, and I really felt like I was therein the era. The sets were all stunning and elaborate, as were the wonderful costumes and props. Everything about the appearance of the film was top-notch. An extremely well made film.

Also the script was great...very powerful and effective. It deserved its Oscar for Best Original Screenplay. The story that went along with that was also great. The film is slow, but it does eventually lead of to a murder. This is the main focus of the film, but at the same time it emphasizes the entangled relationships of everyone in the house. I think that's the reason this film suceeds.

Overall, I think this is a great film. Nominated for 7 Academy Awards including Best Picture and Best Director, this is a must-see film!
Jameson Worley
Super Reviewer
Gosford Park Quotes
| | |
| --- | --- |
| Raymond Lord Stockbridge: | Would you stop sniveling! Anyone would think you're Italian. |
| | |
| --- | --- |
| Constance Countess of Trentham: | what was funny? |
| Constance Countess of Trentham: | What was funny? |
| | |
| --- | --- |
| Henry Denton: | You Brits really don't have a sense of humor do you? |
| Elsie: | We do if something's funny, sir. |