Gossip
(2000)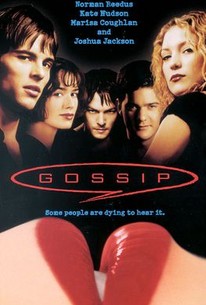 Movie Info
The blurry line between a rumor and the truth is stretched to the breaking point in this drama. Three arrogant and self-centered college students, Jones (Lena Headey), Derek (James Marsden), and Travis (Norman Reedus), are brought together for a class project, in which they decide to start a rumor and keep track of how it spreads. Looking for possible gossip material, they see Naomi (Kate Hudson), a girl known for her high-minded views on saving sex for marriage, drunkenly making out with Bo (Joshua Jackson) at a party. The three students begin passing around the rumor that Naomi became a victim of date rape later that evening, embroidering the truth with allegations that Bo forcibly seduced Naomi after she was too inebriated to put up a fight. Before long, the rumor makes its way back to Naomi herself, who suffered a black-out on the night in question after too much alcohol. Naomi panics, and convinced that the rumor is true, contacts the police, who assign Detective Kelly (Sharon Lawrence) to investigate the charges of rape filed against Bo. Featuring a cast of young actors best known for their work on television, Gossip was an appropriate first feature film for director Davis Guggenheim, who previously distinguished himself on such TV series as ER, NYPD Blue, and Party of Five.
Critic Reviews for Gossip
Audience Reviews for Gossip
½
Trashy, but good. Slick looking 90's film with a mostly unlikeable set of characters and a few twists and lies. Kate Hudson is good, but Marisa Coughlan steals every scene she is in. It's surprising she never became more popular as an actress.
Nicki Marie
Super Reviewer
The second half is a lot more interesting than the first. It is one of those movies where I was beginning to suspect the ending way before it showed itself, but when it happened, it was unbelievable.
The great concept of GOSSIP nearly got killed by a weak execution, poor performances and a juvenile, lightweight plot that tries to pass as dense. Nevertheless, it doesn't fail completely. I may be biased, but James Marsden's performance as evil Derrick Webb is quite amazing. Add an impressive soundtrack by Graeme Revell and an incredible twist ending, and you almost forget everything this flawed little film did wrong. Almost.
Fernando Rafael Quintero Castañeda
Super Reviewer
Gossip Quotes
There are no approved quotes yet for this movie.