Gothika
(2003)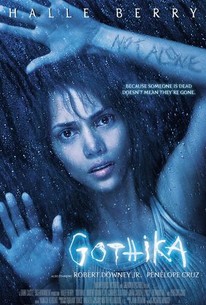 Movie Info
A brilliant and respected criminal psychologist, Dr. Miranda Grey is an expert at knowing what is rational. What is logical. What is sane. Under the direction of her husband, the chief administrator of the psychiatric ward at the Woodward Penitentiary for Women, Miranda treats dangerously disturbed patients like Chloe, an intensely charismatic murderess whose confessions of satanic torture are dismissed by the judicious doctor as the psychotic meanderings of a paranoid mind. But Miranda's comfortable marriage and stable life are thrust into terrifying jeopardy after a cryptic encounter with a mysterious young girl leads to a nightmare beyond her wildest imagination. When Miranda awakens from the horrific incident, she is shocked to discover that her husband has been murdered--and the bloody evidence points directly at her. Unable to fathom having committed an unmotivated act of such sheer brutality against a man she loved and admired, Miranda suddenly finds herself confined to Woodward alongside the highly unstable patients she used to treat with methodical detachment. With no memory of the night in question except for fractured visions of the hauntingly enigmatic girl, the doctor's behavior becomes increasingly erratic. Her claims of innocence are seen as the beginnings of a deep descent into madness by her former colleagues like Dr. Pete Graham, Miranda's sympathetic but skeptical coworker who is wrestling with issues of his own. Forced to rely on her instincts rather than facts, Miranda begins to believe that she has been possessed by a supernatural force determined to exact revenge at the expense of her sanity. As Chloe draws her deeper into her own personal hell, Miranda must determine if she is being driven to madness...or closer to the truth.
News & Interviews for Gothika
Critic Reviews for Gothika
Audience Reviews for Gothika
Interesting idea, not quite sure if it works, particularly by the end. Did seem to be a lot of unnecessary running around by Halle Berry. The actually story was quite good, although at times couldn't figure out why the ghost was such a b* to Halle when she was trying to help her. You do find out the connection at the end, and it is horrible. My mother picked this on Netflix to watch and I will admit to some eye rolling, and probably last movie I would have picked (which isn't actually saying a lot), but actually it wasn't entirely awful.
Nicki Marie
Super Reviewer
½
Halle Berry and Robert Downing Jr. do well in this moody and atmospheric mystery drama with supernatural overtones as a psych doctor, steeped in logical thinking, questions her belief system (and her sanity!!) when she starts seeing ghosts.
Kevin M. Williams
Super Reviewer
½
"Gothika" is a well-made ghost story. It doesn't advance the horror art form in any way. But as a traditional ghost story, it's quite effective. I am completely mystified by the critical drubbing it received when it came out. My only explanation is that Halle Berry seems to have been the victim of a backlash from both critics and audiences after winning her well-deserved Oscar about a year before "Gothika" came out. Berry here stars as a psychiatrist who becomes a patient in the hospital where she works after she starts seeing ghosts and then commits a gruesome crime. The story is fairly simple, but it gains some complexity by way of a minor character played spectacularly well by Penelope Cruz. Gradually the disparate threads in the story get woven together nicely. Robert Downey, Jr. also has a nice small bit as one of the psychiatrists with whom Berry works. All in all, a good old-fashioned ghost story that makes for an entertaining DVD night.
William Dunmyer
Super Reviewer
Gothika Quotes
| | |
| --- | --- |
| Dr. Miranda Grey: | Logic is overrrated.. |
| | |
| --- | --- |
| Dr. Miranda Grey: | Logic is so overrated! |
| | |
| --- | --- |
| Chloe Sava: | You can't trust someone who thinks your crazy |
| Chloe Sava: | You can't trust someone who thinks your crazy. |
| | |
| --- | --- |
| Chloe Sava: | "He said you're next" |
| Chloe Sava: | He said you're next. |