Gotti
(1996)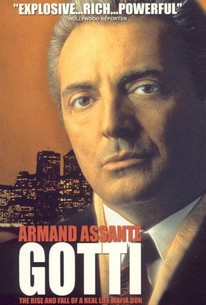 Movie Info
Gotti is the semi-biographical tale of John Gotti, the infamous crime boss of the Gambino mob family. This drama chronicles not only the bloody rise of Gotti, also known as the "Dapper Don", but the FBI's struggle to bring him to justice. His refusal to play by the normal "rules" of the mafia ultimately became the mobster's achilles heel; the FBI eventually persuaded assassin Sammy "The Bull" Gravano to testify against his ungrateful, paranoid boss, who was finally imprisoned in 1982. Gotti is based in part on a book written by Jerry Capeci and Gene Mustain titled Mob Star: The Story of John Gotti. Gotti, directed by Robert Harmon stars Armand Assante as the complicated mafia lord, and also features actors Anthony Quinn and William Forsythe. The drama aired on HBO in 1996, unwittingly serving as a precursor to what would later become the wildly popular mob drama The Sopranos.
Audience Reviews for Gotti
Richard Harmon's Gotti enthrals with the first frame. Brilliantly acted and directed, especially for a made for TV movie, Gotti is one of the finest made for TV films that I have seen in quite some time. Starring Armand Assante is a standout lead performance; Gotti is a brilliant drama about the Teflon Don, and his rise in the Gambino Crime Family. For a small production, Gotti is a very good film, one that is elevated by an impressive cast of talented actors that really make this a terrific viewing. The story at times is a bit unfocused, but you see glimpses of what makes for an effective gangster movie, if the film would have had a bigger budget, a more ambitious script, then who knows where this film could have gone. The film has its shortcomings, but it overcomes them with a powerful performance from Assante, who is perfect here. Like I said, due to the film's limitations, Gotti relies on the cast to really push the film. The result is an accomplished, and entertaining made for TV movie that is a well crafted affair for those interested in a good low budget gangster picture. Of course, the budget constraints show, but that doesn't stop this from being a worthwhile, well acted picture that is sure to entertain viewers for a pleasant time waster. For what it tries to do, it's one of those films that deserves more praise, and it's also a finely executed made for TV film that is far better than others in the genre. Considering that it's a film that uses minimal elements, it's able to pull off an entertaining two hours and it's a film that ranks among the finest made for TV films. Gotti isn't perfect, but the performances, story, direction and over all execution are what makes this an entertaining genre picture.
Gotti is a gritty, well acted, and complex look at the rise and fall of John Gotti. I thought Armand Assante did a terrific job as John Gotti, slick, bombastic, but also nuanced. It's inevitable to compare this to Witness to the Mob. Witness to the Mob was superior from a factual standpoint, covering much more ground in its' three hour run time than Gotti. Ultimately I'd have to go with Tom Sizemore over Armand Assante for the most accurate depiction of Gotti, as Sizemore mastered Gotti's flare of arrogance and naiveté to an extent that Armand didn't quite get up to. At the same time, William Forsythe as Sammy the Bull was superior than Sammy's portrayal in Witness to the Mob. His personality as cold, calculating, and ambiguous, surely matches Gravano more closely than the positive spin Witness took on him. Overall, Gotti is better from a filmmaking standpoint, with sharper, more realistic dialogue.
Jeffrey Meyers
Super Reviewer
I was bored and couldn't get into this movie. I think it was because it was just like every other mob movie I've seen - there was nothing unique about it.
Sarah Prisbylla
Super Reviewer
Gotti Quotes
There are no approved quotes yet for this movie.