Gotti
(2018)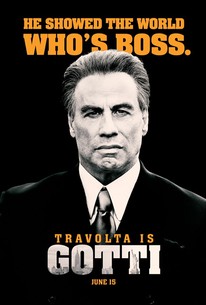 Movie Info
GOTTI follows infamous crime boss John Gotti's (John Travolta) rise to become the "Teflon Don" of the Gambino Crime Family in New York City. Spanning three decades and recounted by his son John Jr. (Spencer Rocco Lofranco), GOTTI examines Gotti's tumultuous life as he and his wife (Kelly Preston) attempt to hold the family together amongst tragedy and multiple prison sentences.
Audience Reviews for Gotti
Gotti, a highly anticipated new mafia movie centered around the Dapper Don, has been nominated for Worst Movie of the Year and unfortunately, I have to agree. For starters, this film was all over the place! Was this film about John Gotti or his son? ...and who really cares about his actual family, there was a shitty reality show about that, what we really care about is his other family, and not the business side either. For a mafia film about one of it's biggest names in history, there is a distinct lack of violence or for that matter anything substantive. Everyone wanted to see the story of the man, not the story behind the man, and especially in a format of flash-forwards and flashbacks. As for John Travolta, I really don't know what he was thinking with this film. The only thing he has in common with John Gotti is the same first name, and watching him try to play John Gotti was as bad as watching Ben Affleck try to play Batman. The bottom line here is that this film was boring, just a lot of talk in a really bad accent. If you're looking for a good film on the Dapper Don, I suggest you go with another film named Gotti, produced in the mid-90s, starring Armand Assante. That film was great and told the story we wanted to hear. This film is nothing more than an bad autobiography brought to the screen by a man, who thinks he can play any role he wants.
Todd Smith
Super Reviewer
"How 'bout the movies? You like - you like - whassat movie you like so much about spaghetti, 'Meatballs' or sumn. Go see that." Edited in a blender, this laughably bad biopic of the notorious John Gotti was mired in development hell over the last decade with something like 4 different directors and countless rewrites. The final product is an absolute mess of extremely violent spurts punctuating a boring series of clunky framing devices and Goodfellas-style narration. This is all exacerbated by an incomprehensible plot that would only make sense to someone who has intimate knowledge of Gotti's biography. John Travolta is on a full-boar ham-page chewing scenery and milking his hyperbolic Brooklyn accent rivaled only in its inauthenticity by Little Italy. There's so much unnecessary cursing in the dialogue it would make a sailor in a David Mamet play blush. Then Pitbull does the main theme, if that's any indication of the poor decisions being thrown about in this catastrophic love letter to a horrible criminal.
K Nife Churchkey
Super Reviewer
The John Gotti biopic has become somewhat notorious because of its 0% rating on Rotten Tomatoes, not that this is the first film to hit that dubious mark. It is bad, though not quite 0% bad. The biggest crime of this movie is that it at no point solidifies a reason why we should find John Gotti interesting. As played by John Travolta, he's a ruthless leader who beat so many prosecutors that he was nicknamed the "Teflon Don." He's also really really boring, spouting stereotypical bromides about the importance of family, never giving an inch, never turning on your family (both capital F and lowercase f). It's a cock-eyed worldview I'd expect, however, at the very end of the movie, the movie itself adopts this cock-eyed justifications, presenting the federal government as the real villains and inserting interview footage of real people eulogizing Gotti, saying he made their streets clean and cared about his community and was, essentially, a hero. It's amazingly misguided, like director Kevin Connolly ("E" fro HBO's Entourage) has suffered Stockholm syndrome from his lunk-headed, murderous criminals. That same sense of misjudgment is never more adamant than in the musical score by pop star Pitbull. Read that again. There's a sequence where Gotti goes out on furlough and is escorted to kill an associate, and the musical score is jaunty and uptempo. There were several moments where the score just took my breath away, so tonally disjointed was this mostly modern-day musical score. The movie is structured as an ongoing series of interviews between Gotti Sr. (Travolta) and his adult son, with choice flashbacks interspersed. We don't even get a rise-and-fall sort of formula. It never provides sufficient evidence why Gotti was interesting at all and worth a big screen biopic. The dialogue feels like it was written with all exclamation points. Nothing is subtle or left to the imagination here, and that extends into the scenery-chewing acting as well from a bunch of unmemorable stock roles. There is also a 1996 TV movie about John Gotti starring Armand Assante. Sight unseen, it must almost assuredly be the better movie and more worth two hours of your precious time. Nate's Grade: D+
Nate Zoebl
Super Reviewer
Gotti Quotes
There are no approved quotes yet for this movie.