Goya's Ghosts
(2007)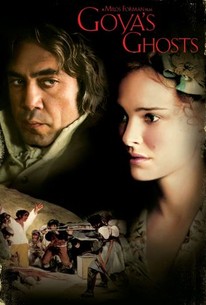 Movie Info
"Goya's Ghosts" is a sweeping historical epic, told through the eyes of celebrated Spanish painter Francisco Goya. Set against the backdrop of political turmoil at the end of the Spanish Inquisition and start of the invasion of Spain by Napoleon's army, the film captures the essence and beauty of Goya's work which is best known for both the colorful depictions of the royal court and its people, and his grim depictions of the brutality of war and life in 18th century Spain. Brother Lorenzo, an enigmatic, cunning member of the Inquisition's inner circle who becomes infatuated with Goya's teenage muse, Ines, when she is falsely accused of heresy and sent to prison.
Critic Reviews for Goya's Ghosts
Audience Reviews for Goya's Ghosts
What a hot mess of a movie. Stellan Skarsgård and Javier Bardem both kinda phone it in as celebrated painter Francisco Goya and a flip-flopping monk who rapes a girl wrongly imprisoned as a heretic. This was also during the late-aughts era of NaPo's awkward and repetitive acting choices, which included such disasters as "Mr. Magorium's Wonder Emporium," "The Other Boleyn Girl," "The Other Woman," and "Brothers." One big problem I have with the movie (aside from the senseless plot and torrid pacing, which I can't even comment on further) is the lack of accent-work. I understand that big period pieces such as this cater to an American audience, and as such, historical figures from myriad countries speak English with an anesthetized, historical-sounding British accent. This movie doesn't even offer that! It's a weird olio of Skarsgård's Swedish, Bardem's Spanish, and Portman's American. ALSO, Goya still speaks perfectly after going deaf.
Alice Shen
Super Reviewer
Film about the life of famed Spanish artist Francisco Goya, Goya's Ghost is a sweeping drama directed by masterful director Milos Forman. I feel that this is a phenomenal period piece. Goya's Ghost has a phenomenal cast and is one impressive historical drama. Not since Forman's film Amadeus has a film of this caliber looked this impressive. Goya's Ghost is set during the Spanish inquisition and shows the harsh period for what it is. Forman's film paints an impressive picture of a gifted artist. The cast that Milos Forman assembles here is an in impressive bunch of talented individuals. They truly bring this film up a notch. Goya's Ghosts is not a perfect film, but there's a lot to appreciate from this film. The story is well crafted, engaging and above all, entertaining. However, there were a few moments that just didn't cut it. For example Natalie Portman at times was overdoing her role, and she turned a rather great performance into a good one. Stellan Skaarsgard is of course, the best role here as Francisco Goya. He truly brought something unique to the screen. This is a near flawless picture that has wonderful performances and a very engaging story. A truly well made film that is almost perfect, Goya's Ghosts brings back elements of Forman previous period piece Amadeus, only this around he focuses on a unique painter.
½
Master Spanish painter Francisco de Goya is confined here to be a mere middle man, a MacGuffin in a tasteless soap opera set in the midst of two centuries. Milos Forman is a good director, but neither he nor his co-writer, the famous Buñuel collaborator Jean-Claude Carrière could follow a truly significant period of Goya's life. It pretends to cover a big span of time, but falls short.
Pierluigi Puccini
Super Reviewer
Goya's Ghosts Quotes
There are no approved quotes yet for this movie.