Grace of My Heart
(1996)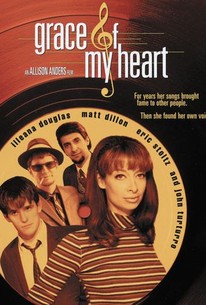 Movie Info
Illeana Douglas delivers a superb performance as Denise Waverly, a fictional singer and songwriter whose life bears more than a passing resemblance to that of real-life pop star Carole King. Edna Buxton, the daughter of a Philadelphia steel tycoon, aspires to a career as a singer, and when against her mother's bidding she sings a sultry version of "Hey There (You With the Stars in Your Eyes)" (instead of Mom's choice, "You'll Never Walk Alone") at a talent contest, she wins a recording contact and moves to New York City. She cuts a record and gains a new stage name, Denise Waverly; however, she soon finds that girl singers are a dime a dozen in the Big Apple and her career as a vocalist goes nowhere. But she has a knack for writing songs, and eccentric producer Joel Milner (John Turturro) asks her to pen some songs for his upcoming projects. Teamed with Howard Caszatt (Eric Stoltz), a hipster songwriter who wants to express his political and social ideals through pop tunes, she finds both a successful collaborator and husband. While her work with Howard gains Denise writing credits on a string of hit records and respect within the industry, their marriage falls apart, and she becomes involved with Jay Phillips (Matt Dillon), the gifted but unstable leader of a popular West Coast surf music combo. Students of pop music history will have a ball with the various characters modeled after real-life rock legends, and the 1960s-style song score includes numbers written by Joni Mitchell and J. Mascis (of the band Dinosaur Jr.), as well as one-time King collaborator Gerry Goffin; a collaboration between Elvis Costello and Burt Bacharach, "God Give Me Strength," led to a full album written by the two great tunesmiths.
Critic Reviews for Grace of My Heart
Audience Reviews for Grace of My Heart
Grace of my Heart is loosely based on the life of real life singer/songwriter Carol King who yearns to break free of her privileged suburban upbringing to become a pop music singer but instead defers her dreams of pop stardom settling for a career as a songwriter. Moving to New York she meets famous song manager Joel Millner (John Tuturro) who helps her on the road to stardom and becomes her lifelong friend and confidant. Changing her name to Denise Waverley she writes a number of hits and becomes a famous and much sought after name in the music industry. She faces a lot of tragedies including the suicide of her husband Brian Wilson (played by Matt Dillon) but she overcomes all the hardship and gets her life back on track and produces and brings out her own new album which sells over a million copies. Illeana Douglas does a credible turn in the title role, Patsy Kensit plays Denise's longtime songwriting partner and loyal gal pal Cheryl Steed and a very young Bridget Fonda portrays the teenage closeted lesbian and pop singer Kelly Porter.
½
A personal favorite. Love it.
Grace of My Heart Quotes
| | |
| --- | --- |
| Denise Waverly/Edna Buxton: | Mother, I can't sing in a dress that doesn't fit. |
| Mrs. Buxton: | The dress suits the occasion. It's you that doesn't fit. |