Grace
(2014)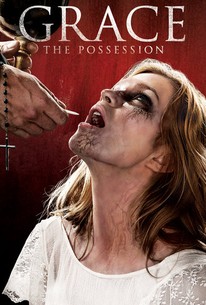 AUDIENCE SCORE
Critic Consensus: No consensus yet.
Movie Info
GRACE: THE POSSESSION, a story told like never before through the eyes of the possessed. Alexia Fast (Jack Reacher) is Grace: a naive, beautiful, virginal college freshman trying to deal with campus culture and her outgoing new roommate. But when a terror takes over her body and unleashes chaos, Grace returns to the cold clutches of her severe grandmother (Lin Shaye) and the strict rules of the church. Haunted by the horrific death of her mother and deeply ingrained, destructive urges, she must stop the demon inside before it's too late.
Audience Reviews for Grace
Though not entirely an original concept, POV cinema is certainly less tired than found footage horror by this point, and so at least for its medium, I am grateful to Grace: The Possession. Apart from being mostly by the numbers unimpressive, the major issue I take with the movie is that it started out looking like one film, and ended another, and the film it was from the start seemed like it would have been a better movie than the one that it switches two for the second and third acts. For the first act, the protagonist (Grace) is at university, and I found that set of events much more engaging than what comes after. Ultimately Grace: The Possession is watchable, but not recommendable.
I've been thinking of films about demonic possession and how The Exorcist absolutely changed the game for that subgenre. Can you think of any movie that has come as close to portraying demonic possession as terrifyingly as The Exorcist did? The Conjuring has elements of this, but that is mostly a haunted house flick, in my opinion, so I can't really count that film. I think the closest we've had to The Exorcist is, legitimately, The Exorcism of Emily Rose. And I say this mostly because of Jennifer Carpenter's performance as the eponymous character. She brought a physicality to the character that wasn't even seen in The Exorcist. While I was never scared, I can see how other people would find her performance terrifying. It is a great performance. I don't know why I started off with that, it's just something this film inspired. Honestly, this really isn't as bad as I was expecting. I realize that starting off with that isn't exactly a glowing recommendation for this film. But, as I've said many times, the ratio of bad-to-good horror films is far greater than with any other genre in existence, so it's just the nature of the beast to be a little hesitant. Especially when there are absolutely no professional reviews for this film on here. I don't let the reviews guide my opinion of the film, but it at least gives me an idea of what others thought about it. First things first, the entire film, save for the beginning and the ending when the demon is transferred from Grace to the priest, is entirely shot from Grace's POV. If you saw the remake of Maniac, starring Elijah Wood, then you know what I'm talking about. To be completely honest, other than promotional purposes, doesn't serve any real actual purpose. You don't see the film any differently, as you did in Maniac, where you saw a disturbed man's actions front and center, almost as if you were the one committing these horrible acts. However, the POV approach, in this movie doesn't really change how you view the characters in any way, shape, or form. It's just something that gets in the way and it kind of limits the kind of scares you can pull off, even though I'm sure the intention was to put you right in the middle of it. The intention was there, but it never felt like anything more other than just a promotional gimmick. But the film, while a slow to a fault, does have some pretty good atmosphere going for it and some decent enough scares. I suppose the demonic possession is a cheap way to tell the story of how much pressure there must be on people who come from fanatically religious family and the negative stigma they may face from their own family members if they choose to leave the church. Possession is always more interesting, and easier to promote, to a studio exec than it is a story about someone who's just been pushed too far. Plus, films about demonic possession have, and will always be, a staple of horror films for eons to come. There's still some of that, as Grace faces pressure from her grandmother due to her desire to experience new things and to expand her horizons outside of what the 'church' (read: her grandmother) wants for her. How the demon gets passed to Grace, from her mother, is a bit confusing, but it is what it is. I'm not sure whether she was like that from birth or did the demon transfer over to her when she saw the vision of her mother being fucked by one of the priests, that led to Grace being born. It's all very poorly thought out. Not like it really matters in the long run, horror films have never been about logic. The climax itself is pretty quite good actually, but not good enough to make the film better, at least in my opinion. I don't wanna say it was too little, too late, but the film does take a bit of patience to get through since it's not like the film is replete with atmospheric scares. They're just sprinkled here and there, to give you glimpses of what is to come in the climax, and I understand it, you want to end on a high note. Completely understandable, but you pretty much sacrificed the rest of your movie for that great climax. Sometimes it works, like Take Shelter, and sometimes it doesn't, like this film. That's not saying that the film is terrible prior to the climax, it actually isn't, it's just a little slow moving. I would say this film was an even 2 stars throughout with slight improvements shown as you get closer to the climax. But those improvements simply aren't enough to make the overall experience better, at least to me. The acting is perfectly fine, Lin Shaye is always great, so no complaints about that. Let's just say that if you're looking for a film about demonic possession to watch this Halloween month, then you could do much worse than this (for example: The Devil Inside). But really, if you haven't seen it yet, you can't really do much better than The Exorcist. Even if you have seen it multiple times, that is the peak of that subgenre. Everything else, is unfortunately, a notch or two below that. At least this film is fine, I'll give it that.
Jesse Ortega
Super Reviewer
Grace Quotes
There are no approved quotes yet for this movie.