Graceland
(2013)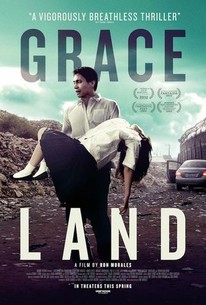 Movie Info
In this unpredictable and tightly-paced thriller, family man Marlon Villar - a longtime chauffeur to corrupt Filipino politician Manuel Chango - is faced with an unthinkable predicament when he is ambushed while driving both his boss's and his own daughter home from school one afternoon. As events spin wildly out of control, Marlon, Chango and their families are forced into a rapid downward spiral of deceit and betrayal that will leave no one innocent. -- (C) Drafthouse
Critic Reviews for Graceland
Audience Reviews for Graceland
½
This is a pretty damn good and intriguing thriller right here. Perhaps the thing that I liked the most about this film was how there's a reaction for every action. And, ultimately, with its themes of karma, that's what the movie is about. That's really my favorite thing about the movie, how everything in the film has a reason and a purpose. And, again, there's a reaction for every action, no matter how small it is. There's also some pretty clever twists in the film. Perhaps calling them twists is incorrect, but bringing up events that occurred earlier in the movie that you may have forgotten about. They do this in a pretty clever and sly manner, where it's actually completely out of your mind because you think that it isn't relevant to the overall arc. So that was really cool and, in hindsight, I should've been paying more attention to the film's events, because I usually notice the smaller details of a film. But this one went right over my head, so I really liked that part of the film, how it managed, not to necessarily fool me, but it managed to surprise me when I wasn't expecting it. There's also the heartbreaking fact that, even though Changho was a horrible man that had sex with minors, no matter what he does or how much money he gives the kidnappers, he'll never see his daughter alive again. It's not necessarily heartbreaking for Changho, but heartbreaking for the girl who had nothing to do with her father's penchant for little girls. Especially if you're a parent, this is probably the worst thing that could happen in this situation and I think this film captures that devastation in a very disturbing manner. Again, you don't feel for Changho...you feel for the little girl that had to pay for his bullshit. I thought the film really got the rating it did thanks to its third act, because everything prior to that felt like standard hostage thriller to me. The third act is where everything starts to unravel and the film reveals all its cards, and I thought that was very well done. And the ending is also really good as well because, again, the themes of karma come into play. The reason, and this will have SPOILERS so skip ahead, Marlon worked together with the kidnappers was to get the money he needed in order to pay for his wife's operation. While he didn't know that the kidnapping was going to go the way it did, he was very much a part of that. So, at the end, when you see Marlon hand his money over to someone in the black market, to get the organ his wife needs for her operation, and then the film ends, you're left with the fact that, if karma is going to affect everyone involved in the kidnapping and murder of Changho's daughter, then Marlon would most likely have his money stolen by these people and his wife would die. And that's something to think about, because the film really is a moral tale at its core. Was everything that Marlon went through worth it in the long run? Especially if he ends up losing his money. Everything that happened would've literally been for nothing. And it's certainly an apropos ending to leave you with, as it certainly makes you think about everything that happened. I definitely enjoyed this movie very much, the first two acts are solid, but typical of this genre, but the third act was top-notch and it really made this movie much better. It might take a little "patience" but I think the film delivers the goods in the long run, so I can't complain too much about this film.
Jesse Ortega
Super Reviewer
½
Ransom flicks I'll admit is not a territory I have much experienced in given I've only seen a few of them. From a story perspective these films have potential, but can fall into a tedious nature. That's the case with Graceland which in spite of being a good film demands you sit through tedious storytelling for a payoff. Graceland is about a desperate father risking everything to save his daughter from the men who hold her captive. The premise doesn't sound original but is saved by taking an unexpected direction. The father we follow is not entirely sympathetic. We constantly question his actions to save his daughter even more so in a revelation that puts everything into perspective. It has enough plot to hold a small film but missing are some significant subplots. It's too direct without a focus on anything else it lacking depth on what it tackles. In terms of development we get very basic dialogue. There's not a single scene that goes for too long because of how minimum the conversations are kept. This causes pacing issues as scene abruptly end as often as they begin. Pacing issues only gives us glimpses of themes of family, class, corruption, extortion, sexual behaviour, suspicion, sickness, trafficking, revenge, redemption, etc. in the middle. These mention themes are rush in the first and final act. The acting is at best decent. No stand out performances here, but are good enough to add tension to the story even when it dragging itself. Be advise though there is a scene where we see a preteen child visibly naked making for one very uncomfortable moment for the viewer. Graceland while not destined to become the next great ransom flick is a good one. It takes a unoriginal premise into a unexpected direction enough so the whole picture is worth taking a look. If you're able to get through the tedious moments you'll find something that will make you think.
Caesar Mendez
Super Reviewer
'Graceland'. Sets the stakes high, stumbles, but ultimately finds its feet as a first-rate thriller. A scathing take on the corruption and sex trade in the Philippines.
Graceland Quotes
There are no approved quotes yet for this movie.