Gran Torino
(2009)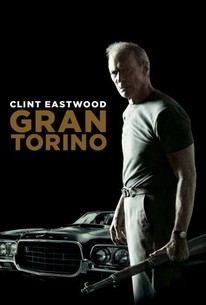 TOMATOMETER
AUDIENCE SCORE
Critic Consensus: Though a minor entry in Eastwood's body of work, Gran Torino is nevertheless a humorous, touching, and intriguing old-school parable.
Movie Info
A racist Korean War veteran living in a crime-ridden Detroit neighborhood is forced to confront his own lingering prejudice when a troubled Hmong teen from his neighborhood attempts to steal his prized Gran Torino. Decades after the Korean War has ended, ageing veteran Walt Kowalski (Clint Eastwood) is still haunted by the horrors he witnessed on the battlefield. The two objects that matter most to Kowalski in life are the classic Gran Torino that represents his happier days working in a Ford assembly plant, and the M-1 rifle that saved his life countless times during combat. When Kowalski's teenage neighbor (Bee Vang) attempts to steal his Gran Torino as part of a gang initiation rite, the old man manages to catch the aspiring thief at the business end of his well-maintained semi-automatic rifle. Later, due to the pride of the Asian group, the boy is forced to return to Kowalski's house and perform an act of penance. Despite the fact that Kowalski wants nothing to do with the young troublemaker, he realizes that the quickest way out of the situation is to simply cooperate. In an effort to set the teen on the right path in life and toughen him up, the reluctant vet sets him up with an old crony who now works in construction. In the process, Kowalski discovers that the only way to lay his many painful memories to rest is to finally face his own blinding prejudice head-on. ~ Jason Buchanan, Rovi
News & Interviews for Gran Torino
Critic Reviews for Gran Torino
Audience Reviews for Gran Torino
½
Revised Monday 01.07.2019. Here's what I wrote back in 2009 when I gave this 2.5 stars: This is not Clint Eastwood's best outing, either acting or directing. Gran Torino is not hitting on all cylinders. The main problem I have with the movie is that it elevates message over story. This is one of the most artificially written and artificially delivered scripts I've seen in some time, and from experience, when that happens, it means that the good people involved have lost sight of the primary mission of the movie: to entertain. Yes, it's always nice to instruct viewers, but instruction should be a motivation that plays a lesser role. Entertainment is what we're always hoping for when we watch a movie, and if we actually learn something along the way, that's like icing on the cake. This movie is not without some entertainment value -- no Eastwood project ever is -- but it is far too message-driven at far too great a cost to any other purpose. Now today, ten years later: I watched this for the first time since I wrote what I did above. Here's what I think 10 years later: I'm a huge Eastwood fan, dating back to his bursting on the scene as the gunfighter who would never waste a single bullet by missing his target, the man with no name in A Fistful of Dollars. Over the years I've come to enjoy Eastwood at about a 90% rate. The other 10%, well, we're not here to talk about the man's political ramblings. So sticking to his acting, writing, directing, producing, and yes, even musical score composing, also including his actually playing some of that music himself, I'm a huge fan. I believe I have seen every movie with which he's ever been associated. Some are more cutting-edge than others, and those that fall on the more predictable side are still, most often, solid projects. Gran Torino is one of these. By predictable, what I mean here is that I think anyone with movie-going experience would probably be able to guess, given the details as they unfold, that the conclusion of the movie is "known" before it ends.. While we may not predict exactly what fate will befall Eastwood, the gang members, and Eastwood's Asian neighbors, we can pretty much guess that Eastwood's hard character will mellow to some extent, that he'll become a little more liberal (remember, we're not taking about Eastwood's real-life politics), and that the bad guys are going to pay somehow. Guess what? That is what happens, and we love watching it unfold to the bittersweet end, and everything revolves, of course, around that Gran Torino. That car is Eastwood, it is the working-class, it is America, it is the American veteran, it is economics and economic globalization, it is racial intolerance, and it is, to its best extent, racial harmonization. That awesome car is quite a symbol-laden one that stands at the center of a solid story with a nice cast. So: I'm bumping it up to 3.5 stars. Who knows what I'll think when I watch it 10 years from now.
Lanning : )
Super Reviewer
Eastwood is funny but cartoonish, snarling and scowling all the time, but the problem with this film is that it clearly doesn't know if it is supposed to be taken serious or not - and what makes it all worse is certainly the awful acting from the entire cast and the lame ending.
Carlos Magalhães
Super Reviewer
½
[img]http://images.rottentomatoes.com/images/user/icons/icon14.gif[/img]
Directors Cat
Super Reviewer
Gran Torino Quotes
| | |
| --- | --- |
| Walt Kowalski: | Blow your head clean off. |
| | |
| --- | --- |
| Walt Kowalski: | Me, I've got a light. |
| | |
| --- | --- |
| Walt Kowalski: | I want you to turn around, go outside, comeback and don't talk about having no job, no car, no girlfriend, no future, no dick. |
| | |
| --- | --- |
| Walt Kowalski: | Shut your fucking face! |