Grandma's Boy
(2006)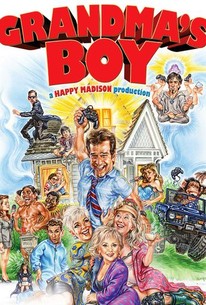 Movie Info
Alex, a 35-year-old video-game tester, is forced to move out of his apartment and in with his grandmother and her two old lady roommates.
News & Interviews for Grandma's Boy
Critic Reviews for Grandma's Boy
Audience Reviews for Grandma's Boy
½
Starring a few of Adam Sandler's frequent co-stars, Grandma's Boy is a rare Happy Madison production without Sandler himself. Star Allen Covert (the guy soaping his ass in Mr.Deeds)is better than expected, as are Shirley Jones (Partridge family) and Linda Cardellini. Remember her as Scooby Doo's Velma? This film is a stoner comedy to be sure but also a love-fest for computer game geeks. This is simple fun. I laughed frequently, but some of this material is only funny if you really are stoned, a little like Cheech and Chong. The best example might be the whole Dante-chimp-lion bit. Also, the office at Brainiac is completely wacky yet somehow imaginable. Having never been a part of a company like this, I imagine JP's robot voice not completely out of place. Its laugh out loud funny, may be not as outrageous as The Hangover, but I enjoyed Grandma's Boy more than that or most recent Sandler's flicks.
Clintus Maximus
Super Reviewer
Grandma's Boy is one enjoyable stoner comedy. I love this film. Though never really hilarious, the film is fairly humourous and is pretty well done. The plot is simple, but what makes this film work is the comical cast involved. Though not perfect, Grandma's Boy is at times charming, and is a lot of fun. This is the perfect comedy to watch with friends. The film is one of the few Happy Madison productions that I've found to be quite good and funny. Grandma's Boy is a fine little film with a good heart. This a fairly original stoner comedy that shouldn't be passed up. Sure it's not, Cheech and Chong, The Big Lebowski or Harold & Kumar, but Grandma's Boy is still a film worth seeing. I'd say it belongs on the list of the memorable stoner flicks for sure. I enjoyed this films and it's characters. The cast are very funny, especially Joel David as J.P the arrogant game designer who constantly makes robot noises. if you're having friends over for a movie night and want something that funny, and with mindless fun, pop this one in your DVD player. Guaranteed to provide you with a good time and good laughs. Grandma's Boy is a lot of fun and over every film that Happy Madison has put out, this is one of their best films. The Jokes are decent, but the characters themselves make the film what it is. Grandma's Boy is far from the worst comedy film, it has its faults, but as a whole it works well because it's simply a fun film to watch.
½
So this is one of those movies that i know is just beyond dumb but i cant tell my friends that cause you know, whatever your friends are doing is obviously the thing to do, right? i mean i may think Grandma's boy sucks, but what do i know? ive been wrong before. remember Vans? those were stupid shoes and i KNEW that, and i had to wear those for four years. on the other hand, Grandma's boy is like an hour and a half... Look my friends are right, ok. Its good. thanks to them, i know coke is good and this is too. i think.
Coxxie Mild Sauce
Super Reviewer
Grandma's Boy Quotes
| | |
| --- | --- |
| Alex: | My grandma drank all my pot. |
| | |
| --- | --- |
| Dante: | Don't judge me Monkey. |
| Dante: | Don't judge me Monkey. |
| | |
| --- | --- |
| Dr. Shakalu: | My beef strong!!! |
| Dr. Shakalu: | My beef strong! |