Grave Decisions (Wer früher stirbt, ist länger tot)
(2006)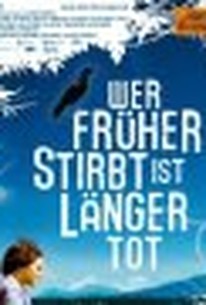 AUDIENCE SCORE
Critic Consensus: No consensus yet.
Movie Info
Marcus H. Rosenmüller's first feature movie deals with a boy thinking that he is responsible for his mother's death and his unusual way to fight his feelings of guilt. 11-year-old Sebastian lives with his father and brother Franz in a Bavarian village. One day, he learns that his mother died on his birthday, which makes him believe he was to blame for her death. Dreaming of purgatory, Sebastian sees only two ways to avoid this divine punishment: becoming an immortal rock star or find a new wife for his father...
Critic Reviews for Grave Decisions (Wer früher stirbt, ist länger tot)
Audience Reviews for Grave Decisions (Wer früher stirbt, ist länger tot)
Surprisingly sweet and funny movie from Germany's Texas: Bavaria. 11-year-old Sebastian discovers his mum died on his birth day and is worried he is going to purgatory for it and all the other mischief he already did in his life. The dream sequences are somewhat over the top and even Germans might need subtitles for some parts of the Bavarian dialoges. But the script is full of nice little ideas as Sebastian is trying to turn immortal to escape hell, the film is really nicely shot and the actors pretty convincing and charming. Considering this comes from the same state as Lederhosen, Volksmusik and other horrible German stereotypes, this movie is surprisingly free of all those and can really claim to be unique. Well done.
Very, very funny, very regional and very good German film. The English title isn't half as good as the German one, which means "The sooner you die, the longer you're dead", which makes perfect sense once you saw the film. The little boy is quite the discovery, he is awfully cute in his mischievousness. One of the best German films I have seen in recent years. And if you are learning German as a foreign language and didn't understand a single bit of the dialogue, you need not worry - I am German and needed subtitles because of the very strong Bavarian dialect.
Grave Decisions (Wer früher stirbt, ist länger tot) Quotes
There are no approved quotes yet for this movie.