Grave of the Vampire
(1972)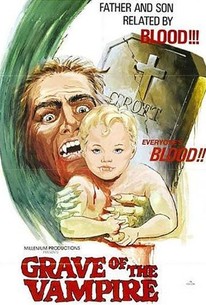 AUDIENCE SCORE
Critic Consensus: No consensus yet.
Grave of the Vampire Photos
Movie Info
This dark, violent British production stars Michael Pataki as a brutish vampire apparently lacking in Dracula's powers of seduction, since he finds it necessary to brutally rape a young woman (Kitty Vallacher) in order to sire a child. The product of this unholy mating is a half-human, half-vampire baby boy, bottle-fed on the blood of his now-insane mother (a truly sickening sight) until her eventual death from anemia. Later as a young man, the son (William Smith) is able to spend short periods in daylight, and his bloodlust is considerably lesser than that of his father. Tormented nevertheless by his evil condition, he curses his bloodline and defies his vampire heritage, tracking his father down to the university where he teaches occult sciences. Aside from Pataki's coarse but imposing performance, this low-budget film is a fairly routine genre entry, but the climactic, bloody duel between father and son vampires is quite gripping.
Critic Reviews for Grave of the Vampire
Audience Reviews for Grave of the Vampire
One of my favourite vampire "family" movies, the Twilight people should check this out. A woman, raped by a vampire, has the son of the vampire, and then the son is a vampire who wants to get revenge for his mother by killing his father! What drama! I love this movie.
A vampire rapes a woman in a cemetery; years later, her half-vampire son searches for his fangy dad, now a night school professor of occult studies (!) A promising, if fairly ridiculous, premise is wasted in this lifeless, talky movie.
Grave of the Vampire Quotes
There are no approved quotes yet for this movie.