The Gravedancers
(2006)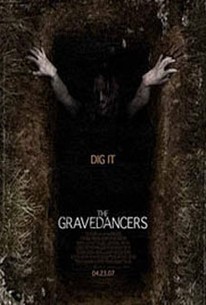 Movie Info
Three twentysomethings learn the hard way about how to behave in a cemetery in this independent horror story. Harris (Dominic Purcell), Sid (Marcus Thomas), and Kira (Josie Maran) are three longtime friends who are reunited under unfortunate circumstances when their pal Devin dies in an auto accident. After attending Devin's funeral, the three stage an impromptu wake at a nearby roadhouse, and after lots of drinking they return to his grave to pay their final respects. Sid finds a note on Devin's grave which contains what appear to be lyrics to a song; the revelers begin singing the song and dancing around the cemetery, trampling the nearby graves. It isn't long before Devin's friends discover they've made a serious mistake; the poem they sang was actually a magic spell, and by reciting it as they disrespect the dead they've awakened angry spirits, who begin terrorizing them in their homes. Worst of all, paranormal investigator Vincent (Tchéky Karyo) informs Harris that there's only one sure way to stop the ghosts from bothering them -- death. The Gravedancers received its world premiere at the 2006 Tribeca Film Festival.
News & Interviews for The Gravedancers
Critic Reviews for The Gravedancers
Audience Reviews for The Gravedancers
At last a decent low budget horror that was quite entertaining! It had a good cast with a few familiar faces from TV of yester year. The story was something a bit different from the normal. What really made this for me though was the design, largely on animatronics and prosthetics than cgi, of the ghost characters. The production of the whole film looked pretty good for the budget. It reminded me a lot of Thirteen Ghosts. Hopefully there is scope for a sequel.....or two!
½
Halloween night with nothing to watch. Not exactly the best movie ever made, but better than at least 40% of horror films. Anyways, predictable, corny, and pointless. But arn't more horror movies?
Curtis Lilly
Super Reviewer
From the 8 Films to die for series. Like most of the films from this series its an excellent one. Some friends get together after a funeral and dance on the grave of the recent dead. By doing so they start being eliminated one by one. Pretty creepy, 4 stars on the creep scale.
Bruce Bruce
Super Reviewer
The Gravedancers Quotes
There are no approved quotes yet for this movie.