Gravity
(2013)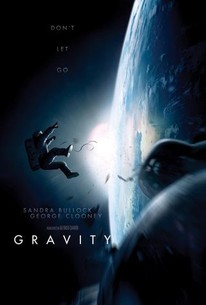 Movie Info
Gravity stars Sandra Bullock and George Clooney in a heart-pounding thriller that pulls you into the infinite and unforgiving realm of deep space. Bullock plays Dr. Ryan Stone, a brilliant medical engineer on her first shuttle mission, with veteran astronaut Matt Kowalsky (Clooney). But on a seemingly routine spacewalk, disaster strikes. The shuttle is destroyed, leaving Stone and Kowalsky completely alone - tethered to nothing but each other and spiraling out into the blackness. The deafening silence tells them they have lost any link to Earth and any chance for rescue. As fear turns to panic, every gulp of air eats away at what little oxygen is left. But the only way home may be to go further out into the terrifying expanse of space. -- (C) Warner Bros.
News & Interviews for Gravity
Critic Reviews for Gravity
Audience Reviews for Gravity
In space no one can hear you snore..most overrated film of the year..surprisingly zero tension,couldn't have cared any less for the 2 characters..Bullock isn't interesting enough to carry an entire film & Clooney is as bland as always..would've been more interesting if they'd put the Chuckle brothers up there.
Mark Evans
Super Reviewer
Devastatingly terrible. Not a moment throughout the film that I rejoiced. Nor did it succeed to make me care about any of its couple of characters. Actual Rating: -5/5
familiar stranger
Super Reviewer
½
An exhilarating theatre experience, but upon reflection, it feels like the phenomenal second half of a truly epic 150 minute sci-fi drama. In the end, it leaves you out of breath, inspired, yet thinking: ''That was awesome, but imagine.......''
Gravity Quotes
| | |
| --- | --- |
| Explorer Captain Voice: | Matt, do you have a visual of just what mission specialist Shariff is doing up there? |
| Matt Kowalski: | He appears to be doing some sort of the macarena. |
| | |
| --- | --- |
| Dr. Ryan Stone: | Alright the way I see it, there's only two possible outcomes. Either I make it down there in one piece and I have one hell of a story to tell, or I burn up in the next ten minutes. Either way whichever way, no harm no foul. Cause either way, it'll be one hell of a ride. I'm ready. |
| | |
| --- | --- |
| Matt Kowalski: | I have a bad feeling about this mission. |
| | |
| --- | --- |
| Matt Kowalski: | Don't worry those pretty blue eyes of yours, Stone. |
| Dr. Ryan Stone: | My eyes are brown, Kowalski. |