Grease
(1978)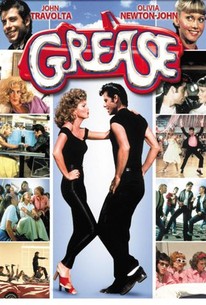 TOMATOMETER
AUDIENCE SCORE
Critic Consensus: Grease is a pleasing, energetic musical with infectiously catchy songs and an ode to young love that never gets old.
Movie Info
"Grease," said the poster and the Barry Gibb song, "is the word." Transferring its setting from Chicago to sunny California, and adding a dash of disco to the ersatz '50s score, producer Allan Carr and director Randal Kleiser turned this long-running Jim Jacobs-Warren Casey Broadway smash into the biggest blockbuster of 1978. 1950s teens Danny (John Travolta) and Australian transfer Sandy (Olivia Newton-John) spend their "Summer Nights" falling in love, but once fall comes, it's back to Rydell High and its cliques. As one of the bad-boy T-Birds, Danny has to act cool for best pal Kenickie (Jeff Conaway) and their leather-clad mates Sonny (Michael Tucci) and Doody (Barry Pearl, in the role Travolta played on-stage). Despite befriending Frenchy (Didi Conn), one of the rebel Pink Ladies, virginal Sandy is "too pure to be Pink," as the Ladies' leader, Rizzo (Stockard Channing), acidly observes. Declaring their devotion in such ballads as "Hopelessly Devoted to You" and "Sandy," Sandy and Danny split, reconcile, and split again amidst a pep rally, dances, drive-ins, and a drag race, before deciding "You're the One That I Want" at the climactic carnival. With Travolta white-hot from Saturday Night Fever (1977), Grease soundtrack singles climbed the charts and summer movie crowds poured in. With the presence of Joan Blondell, Eve Arden, Sid Caesar, Edd "Kookie" Byrnes, and Frankie Avalon appealing to grown-up memories, Grease became the highest-grossing film of 1978, the highest-grossing movie musical ever, and the third most popular film of the new blockbuster '70s after Star Wars (1977) and Jaws (1975). Its sequel, Grease 2, did not exactly set the world on fire in 1982. ~ Lucia Bozzola, Rovi
Critic Reviews for Grease
Audience Reviews for Grease
For some reason, it took me until this year to finally see this movie. most of my friends love this movie and I knew the songs so well. But I was pleasantly surprised to watch it! First, I was surprised by how un-innocent the movie was. Listening to `Summer Loving' could lead one to believe this was a simple story about 50's high school students. Whoops, it's not, it's actually a parody of that. But, that gives it a lot of amusing (adult) humor. But the most impressive thing about the movie is how energetic it is. They really don't make them like they used to. The music and dancing really gets you excited as you start tapping your feet with the rhythm. Just compare this energy to today's computer-generated films, like Star Wars Episode II! Ewan McGregor reading lines unemotionally to a CGI Yoda? YAWN... John Travolta (really) swinging Olivia Newton-John through the air? COOL! Hollywood really has lost something. 3 Stars 1-1-2001 (Updated)
Bruce Bruce
Super Reviewer
This adaptation of the 1971 musical strikes the right chords and hits all the right moves. Gracefully filled with flamboyant and electrifying singing and dancing numbers along with the charm and charisma of its two young lovers (Travolta & Newton-John), Grease is the word and the film to portray young love in all its fine ways. 4/5
Eugene Bernabe
Super Reviewer
As original as movies come, and whose style is still mimicked to this day.
Eric Alvarez
Super Reviewer
Grease Quotes
| | |
| --- | --- |
| Sandy: | I'm no stranger to heartbreak. |
| Frenchy: | Oh! Do you have psoriasis? |
| | |
| --- | --- |
| Principal McGee: | Blanche, do you have this year's schedules? |
| Blanche: | (licking chocolate off her fingers) I just had my hands on them. |
| Blanche: | I just had my hands on them. |
| Principal McGee: | Oh , good, they'll be nice and smudged...Blanche, these are last years schedules -- the ones we couldn't find. Now maybe next year, we'll find this year's schedules. |
| Principal McGee: | Oh , good, they'll be nice and smudged...Blanche, these are last years schedules, the ones we couldn't find. Now maybe next year, we'll find this year's schedules. |
| | |
| --- | --- |
| Frenchy: | (to Sandy) Uh Sandy here's your toothbrush |
| Frenchy: | [to Sandy] Uh Sandy here's your toothbrush. |