Grease: Live!
(2016)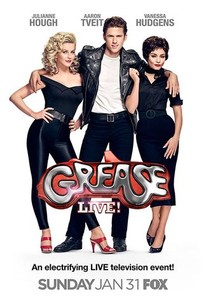 TOMATOMETER
AUDIENCE SCORE
Critic Consensus: Grease: Live took the pressure and threw away conventionality -- it belongs to yesterday. There was a chance that it could make it so far; we started believin' we can be who we are. Grease: Live is the word.
Movie Info
The first-ever live television production of "Grease" will re-imagine and reintroduce some of the most memorable moments, great music and timeless love story to an entirely new generation.
News & Interviews for Grease: Live!
Critic Reviews for Grease: Live!
Audience Reviews for Grease: Live!
I thought this was pretty good. Most of the voices weren't as good as the original, but it was just as entertaining.
Erin Collins
Super Reviewer
Wow, this did not need to be over 2 hours long! Having said that, for a remake it was acceptable - only because it doesn't take itself seriously and the cast do a decent job. I hated Jessie J at the beginning, though. That lost it half a star. Mainly I only watched for Carly Rae. She's great. I broke my own (recently made) vow to boycott all these stupid remakes as I wanted to see her in this. I also thought the girl playing Rizzo (Vanessa?) really pulled off that character. I was pleasantly surprised. Danny and Sandy were a little weak, but they were in the original too, so not judging too harshly. I didn't watch all of this - as in, it was on Netflix and I was in and out of the room - but I caught the majority and I know the story anyhow. I wouldn't recommend it over the original, but it's worth a look. Particularly if you like any of the stars or don't mind a remake. A die hard fan of the original may hate it. I liked the original, but it's not a very favorite, so I didn't mind this one.
Nicki Marie
Super Reviewer
½
FOX was fashionably late to the live TV musical game, but boy did it deliver. "Grease Live!", helmed by Broadway wunder-director Thomas Kail, is an epic, progressive extravaganza from soundstage to soundstage - full of careening golf carts, swinging poodle skirts, and preppy saddle shoes. Not to mention innovative costume changes, hip new choreography, and an energy-hyping live audience. The updated cast is a smorgasbord of talent. Vanessa Hudgens steals the show as brassy and bold Rizzo, Keke Palmer is luscious as nymphomaniac Marty, and Boys II Men as Teen Angel is just 90s Teen Beat perfection. Although Julianne Hough and Aaron Tveit lead the way adequately in terms of singing and dancing, their acting is a little phoned in, which is an inevitable danger with the iconic though stereotypical roles of sweet Sandy and cool guy Danny. Hough is nice-girl bland, and her voice strains during "Hopelessly Devoted to You." And I know it's customary for adults to play teens, but bless his megawatt smirk, Tveit's pronounced smile lines make him look A LOT older than everyone else. My favorite parts are the long, outdoor tracking shot of Jessie J's "Grease (Is the Word)," "Freddy My Love" with the seamless USO transitions, Hudgens's impeccable emotional control in "There Are Worse Things I Could Do," and the drag race with kinetic lighting effects and camera zooms to simulate moving vehicles.
Alice Shen
Super Reviewer
Grease: Live! Quotes
There are no approved quotes yet for this movie.