Greaser's Palace
(1972)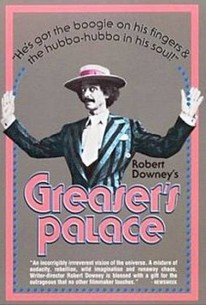 Movie Info
Set in a mystical frontier town where Seaweedhead Greaser runs his eponymous saloon, this freewheeling social satire features, among other things, a vaudeville Jesus, a topless Indian scout and a homosexual cowboy.
Critic Reviews for Greaser's Palace
Audience Reviews for Greaser's Palace
½
I first saw "Greaser's Palace" in the late '70s, when I was far too young to understand its allegorical aspects. The one detail I always remembered was some lunatic inexplicably repeating a phrase which sounded something like "Ee-wop-see-dep." Well, I recently saw the film for the second time, and that scene was *still* puzzling. I still couldn't understand what the character was saying -- I guessed something close to "Who is he, Jep?" but the Web says it's actually "Who is he gip." Um, OK. Even listening to this film minus visuals would be quite bizarre. People wordlessly howl and cry like animals, for a variety of reasons. Mariachi music intrudes at random intervals. Other scenes have long silences, while characters simply trudge around the terrain. There's an anachronistic boogie-woogie song (with a mediocre vocal, besides), and even the closing seconds add a strange din of electronic noises. It's a lot for baffled ears to process. But I was so pleased that Greaser finally beat his constipation problem. "Greaser's Palace" is totally insane, but also quite brilliant. Don't miss the young Toni Basil running around as a topless Injun, and little Robert Downey Jr. making a cameo as a child whose throat gets slit!
Eric Broome
Super Reviewer
½
A zoot-suited messiah parachutes into a Western town, performs miracles and boogie-woogie songs, and gets crucified. A string of subtle, absurd sketches hanging off a loose New Testament storyline; fitfully funny, always surprising, and one of the more bizarre movies you're ever likely to see.
Greaser's Palace Quotes
There are no approved quotes yet for this movie.