The Great Dictator
(1940)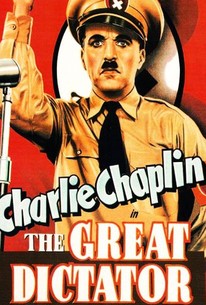 TOMATOMETER
AUDIENCE SCORE
Critic Consensus: Charlie Chaplin demonstrates that his comedic voice is undiminished by dialogue in this rousing satire of tyranny, which may be more distinguished by its uplifting humanism than its gags.
The Great Dictator Photos
Movie Info
"This is the story of the period between two world wars--an interim during which insanity cut loose, liberty took a nose dive, and humanity was kicked around somewhat." With this pithy opening title, Charles Chaplin begins his first all-talking feature film, The Great Dictator. During World War I, a Jewish barber (Chaplin) in the army of Tomania saves the life of high-ranking officer Schultz (Reginald Gardiner). While Schultz survives the conflict unscathed, the barber is stricken with amnesia and bundled off to a hospital. Twenty years pass: Tomania has been taken over by dictator Adenoid Hynkel (Chaplin again) and his stooges Garbitsch (Henry Daniell) and Herring (Billy Gilbert). Hynkel despises all Jews and regularly wreaks havoc on the Tomanian Jewish ghetto, where feisty Hannah (Paulette Goddard) lives. Meanwhile, the little barber escapes from the hospital and instinctively heads back to his cobweb-laden ghetto barber shop. Unaware of Hynkel's policy towards Jews (in fact, he's unaware of Hynkel), the barber gets into a slapstick confrontation with a gang of Aryan storm troopers. He is rescued by his old friend Schultz, now one of Hynkel's most loyal officers. Thanks to Schultz's protection, the ghetto receives a brief respite from Hynkel's persecution. The barber sets up shop again, developing a warm platonic relationship with the lovely Hannah. But things take a sorry turn when Hynkel, angered that a Jewish banker has refused to finance his impending war with Austerlitz, begins bearing down again on the Ghetto. Near the end of the film, when the dictator is expected to make another one of his hate-filled, war-mongering speeches, the barber steps up to the microphones...and Charles Chaplin drops character and becomes "himself," delivering an impassioned plea for peace, tolerance, and humanity. ~ Hal Erickson, Rovi
Critic Reviews for The Great Dictator
Audience Reviews for The Great Dictator
½
Chaplin's first all-talking picture is this wonderful, hilarious classic that makes a poignant statement against dictatorial regimes with countless memorable moments, from the dictator's speech in incomprehensible German to an unforgettable conclusion.
Carlos Magalhães
Super Reviewer
When watching this film, the first talkie from mega talented filmmaker Charlie Chaplin, it's all so visceral. Your response, neither weathered by time nor the shame of what was happening at that point in time, is primal. Chaplin here is fusing his talents of comedic slapstick and international propaganda so seamlessly, that you can't distinguish the two, and in the midst of those elements is also a flawless interpretation of human suffering and degradation, laced with hope. This film, from the king of silent comedic films, made his coup de grace at this time, unequalled in his commentary of the Nazi Party, because at the time of production it was unpopular to mince words when you were speaking about the Germans. At the time of release however this was a pivotal motivator for all countries, and still stands as a great form of propaganda and art. Where does the humor towards a dictatorship come from, you ask? Well, Chaplin saw the similarities between himself and Hitler, not just in mustaches but in upbringings. Using his off-brand form of humor he floats through scenes as The Tramp (though now labeled as The Barber), upends the government, makes friends with a traitorous former colleague, and has to grasp to understand the evils of the party in power. The dictator uses anti-Semitism for political gain, giving speeches that sound furious and biting, though in reality none of its in proper German (true to Chaplin's sense of humor). While the Barber is an enlightened, strong-willed, and clumsy Jew on the verge of romance with another in the ghetto, Chaplin also portrays the dictator named Hynckel, who is in direct control of the fake country of Tomania. The differences between the two performances are astounding, not just because one is filled with light humor and the other with cloying hatred. Hynckel is savage in his opinion of Jews while not caring about their fate, tries to take over Europe without much thought, treats women as objects, and lives an opulent lifestyle. Some of the scenes truly show the deranged political power of Hynckel while masking any resemblance to Chaplin's adopted tramp. The facts of the Nazis' true terror had not fully come into the public sphere, but many people did know about these horrors. Chaplin denies any knowledge of the realities of the camps and wouldn't have made light of them had he known, though this fact is debated. Either way, what is shown onscreen seems to be of the right atmosphere and a little easier to digest now that it's been seventy odd years. The film balances between sincere odes to intervention and humane love for one another and full out comedy, including an inspired dance between Hynkel and Hitler's famed globe, in balloon form of course. If you know anything about this film already, it's the ending speech that remains famous. Though I didn't know anything of it prior to watching, it was miraculous, inventive, beautiful, and something else altogether, and can be observed as much no matter what. This film is lovely from all angles, so good it's miraculous, and belies its own reputation, simply creating beauty onscreen.
Spencer S.
Super Reviewer
Brilliant comedy classic starring Charlie Chaplin, The Great Dictator is a well crafted jab at fascism and is the most outspoken film that Chaplin has ever made. This is a brilliant satire, and a must see film that still holds up to this day. With a great cast at hand, Charlie Chaplin crafts a memorable comedy/ drama film that is a must see for cinema buffs. This was the first major talkie of Chaplin as he veered into new territory. This is a fun, entertaining film that also manages to be critical and smart in exposing the worst that fascism has offered. This is a terrific film that will surely please fans of classic movies, as much as comedy lovers. The film blends elements of drama, comedy and political satire brilliantly to create an outstanding picture that has plenty of laughs and an important message to boot. This is among one of the greatest films ever made and it showcases Chaplin's talents perfectly. I would consider this film as one of the first satires ever filmed. With an effective plot, and wonderful acting by its cast, this is a comedy classic that is a memorable viewing experience, if you want a well crafted satire that is smart, witty, funny and above all critical of policies overseas at the time, and then definitely give this classic a viewing. This is among the most important and significant films made in the long history of cinema. Eye opening and well executed, The Great Dictator is a genre defining picture that definitely is worth your time if you love Chaplin's work or if you're getting into his work, and then this is the perfect place to start.
The Great Dictator Quotes
| | |
| --- | --- |
| Adenoid Hynkel Dictator of Tomania: | Let us all unite! |
| | |
| --- | --- |
| Adenoid Hynkel Dictator of Tomania: | I'm sorry, but I don't want to be an emperor. That's not my business. I don't want to rule or conquer anyone. I should like to help everyone if possible; Jew, Gentile, black man, white. We all want to help one another. Human beings are like that. We want to live by each other's happiness, not by each other's misery. We don't want to hate and despise one another. In this world there is room for everyone, and the good earth is rich and can provide for everyone. The way of life can be free and beautiful, but we have lost the way. Greed has poisoned men's souls, has barricaded the world with hate, has goose-stepped us into misery and bloodshed. We have developed speed, but we have shut ourselves in. Machinery that gives abundance has left us in want. Our knowledge has made us cynical; our cleverness, hard and unkind. We think too much and feel too little. More than machinery, we need humanity. More than cleverness, we need kindness and gentleness. Without these qualities, life will be violent and all will be lost. The airplane and the radio have brought us closer together. The very nature of these inventions cries out for the goodness in men; cries out for universal brotherhood; for the unity of us all. Even now my voice is reaching millions throughout the world, millions of despairing men, women, and little children, victims of a system that makes men torture and imprison innocent people. To those who can hear me, I say, do not despair. The misery that is now upon us is but the passing of greed, the bitterness of men who fear the way of human progress. The hate of men will pass, and dictators die, and the power they took from the people will return to the people. And so long as men die, liberty will never perish. Soldiers! Don't give yourselves to brutes, men who despise you, enslave you; who regiment your lives, tell you what to do, what to think and what to feel! Who drill you, diet you, treat you like cattle, use you as cannon fodder. Don't give yourselves to these unnatural men - machine men with machine minds and machine hearts! You are not machines, you are not cattle, you are men! You have the love of humanity in your hearts! You don't hate! Only the unloved hate; the unloved and the unnatural. Soldiers! Don't fight for slavery! Fight for liberty! In the seventeenth chapter of St. Luke, it is written that the kingdom of God is within man, not one man nor a group of men, but in all men! In you! You, the people, have the power, the power to create machines, the power to create happiness! You, the people, have the power to make this life free and beautiful, to make this life a wonderful adventure. Then in the name of democracy, let us use that power. Let us all unite. Let us fight for a new world, a decent world that will give men a chance to work, that will give youth a future and old age a security. By the promise of these things, brutes have risen to power. But they lie! They do not fulfill that promise. They never will! Dictators free themselves but they enslave the people. Now let us fight to fulfill that promise. Let us fight to free the world! To do away with national barriers! To do away with greed, with hate and intolerance! Let us fight for a world of reason, a world where science and progress will lead to all men's happiness. Soldiers, in the name of democracy, let us all unite! |
| | |
| --- | --- |
| Adenoid Hynkel Dictator of Tomania: | Look up! Look up! The clouds are lifting - the sun is breaking through. We are coming out of the darkness into the light. We are coming into a new world. A kind new world where men will rise above their hate and brutality.The soul of man has been given wings - and at last he is beginning to fly. He is flying into the rainbow - into the light of hope - into the future, that glorious future that belongs to you, to me and to all of us. Look up. Look up |
| | |
| --- | --- |
| Jewish Barber: | Greed has poisoned men's souls, has barricaded the world with hate, has goose-stepped us into misery and bloodshed. We have developed speed but we have shut ourselves in. Machinery that gives abundance has left us in want. Our knowledge has made us cynical, our cleverness hard and unkind. We think too much and feel too little. More than machinery, we need humanity. More than cleverness, we need kindness and gentleness. Without these qualities, life will be violent and all will be lost. |
| Jewish Barber: | Greed has poisoned men's souls, has barricaded the world with hate, has goose-stepped us into misery and bloodshed. We have developed speed, but we have shut ourselves in. Machinery that gives abundance has left us in want. Our knowledge has made us cynical; our cleverness, hard and unkind. We think too much and feel too little. More than machinery, we need humanity. More than cleverness, we need kindness and gentleness. Without these qualities, life will be violent and all will be lost. |