Great Expectations
(2013)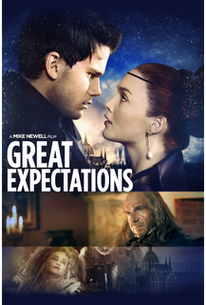 TOMATOMETER
AUDIENCE SCORE
Critic Consensus: Not the best version of the oft-filmed Dickens classic but far from the worst, Mike Newell's Great Expectations breathes just enough life into the source material to justify yet another adaptation.
Great Expectations Photos
Movie Info
A humble orphan suddenly becomes a gentleman with the help of an unknown benefactor.
News & Interviews for Great Expectations
Critic Reviews for Great Expectations
Audience Reviews for Great Expectations
½
Not a bad version of one of my favorite stories. Helena Bonham Carter was made to play Ms. Haversham. One thing though -- I always imagined Stella to have dark hair.
Jason Robinson
Super Reviewer
½
Not being familiar with its source story, or the other numerous film adaptations, I went in to Great Expectations with no real notion of how the story would unfold. What I got was a period piece, to be sure, but one that was obviously based heavily on a literary source. It was a film of impressive scope and performed well, but a film that felt helplessly full, too many plot lines to follow, and too little time to adequately explore it. The basic premise of the story finds a young orphan suddenly finding himself with a mysterious benefactor, seemingly destined to become a gentleman, for inexplicable reasons. The novel, penned by Charles Dickens and published in the 1860s, is certainly a product of its time, with its unique social criticisms and rather quaint plot devices, along with an indulgence toward melodrama. Originally published as a serial, it would seem the narrative is more fitted toward a miniseries. As a stand-alone film, it simply feels cramped. The characterizations, though well acted, never really have any lift because they are never given the time to unfold organically. The narrative developments are never enthralling, and often confusing, being more concerned with hitting on the story's major plot points rather than creating its own self-contained story. This is not to say the film is without merit, there's plenty to admire but, in the end, it never establishes itself as an appealing film in its own right. 2.5/5 Stars
Jeffrey Meyers
Super Reviewer
A truth must be faced when dealing with an age-old tale like "Great Expectations", you cannot change Charles Dickens. No matter how much you want to make a current adaptation or a period piece that expands on the 1860's novel, if you were to tamper with the material, you would face a backlash that you'd never escape. But with that comes adaptations like Mike Newell's version of the well-known tale, that comes off very much like something we've seen before and that does not expand the world much more than we know it already. But as viewers, we must understand where the heart is coming from and either accept what we are witnessing or not. "Great Expectations" is my favorite Dickens novel, with such a profound love story at its base, that you cannot help but feel what these characters are feeling, and with such a struggle in play, your emotions run the proverbial gambit. What Mike Newell does realize he can control are the actors playing the well traversed characters and hope to deliver performances from these selected cast members that revitalize the retreaded story and breathe new life into the pages. In my personal opinion, Newell achieves this successfully, bringing old and new into the picture superbly. Helena Bonham Carter, although typecast in the role of crazy Miss Havisham, delivers on par with her predecessors and neither takes away from nor necessarily adds anything to the role. Her known grace is apparent and we appreciate it. Ralph Fiennes as Magwitch also carries a well known weight and amps up the performance level for this character's portrayal as well. The real star of the show, however, is newcomer Holliday Grainger ("The Borgias"), as Estella, the iconic female character with a heart of ice, leading on poor Pip under the advisement of Miss Havisham. Grainger is first of all visually stunning, especially in the extravagant dresses. Also, her deliveries are breathtaking, stealing your heart, yet dashing your hopes in all the best of ways. Of people that have played the role before her, none have quite captured the innocence that Grainger delivers, as she highlights the best portions of the film and truly keeps the viewer wanting more. Sadly, the same cannot be said for lead Jeremy Irvine, who never quite convinces as Pip and although eventually looks the part of a gentlemen, remains uncomfortable in his own skin as an actor. Along with some unexpected turns from Sally Hawkins, Jason Flemyng, Robbie Coltrane, Ewen Bremner, and Ollie Alexander, you're able to overlook the unfortunate Pip casting and breath in this newly minted Dickens adaption. With a huge career ahead of her, Grainger has inspired me to follow her future work and with that makes "Great Expectations" one of my favorite period pieces this year, hopefully catching the eye of at least a few Academy members by the year's end.
Christopher Haskell
Super Reviewer
Great Expectations Quotes
There are no approved quotes yet for this movie.