The Great Garrick
(1937)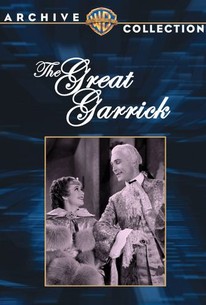 AUDIENCE SCORE
Critic Consensus: No consensus yet.
Movie Info
Director James Whale, well known for his witty horror films, tackled comedy head-on in this period piece, set in the 18th Century. David Garrick (Brian Aherne) is a gifted but supremely arrogant British actor whose fame is exceeded only by his ego. After finishing a starring run at London's Drury Lane Theatre, Garrick informs the audience his next engagement will be at the Comedie Francaise in Paris, and adds that he plans to use the opportunity to teach the French a few things about acting. Stung by the insult, the Comedie Francaise company plan to take their revenge against Garrick by pulling an elaborate prank; on his first night in Paris, Garrick is taken to an inn where, unbeknown to him, the staff and clientele have been taken over by actors, who stage an lively evening for his benefit. Garrick soon sees through the ruse but plays along, and acts cool towards a lovely young woman, Germaine De Le Corbe (Olivia de Havilland), even though he's smitten with her. After giving Germaine the brush off, Garrick informs the assembled thespians that he saw through their trick, only to discover that Germaine happened upon the inn by accident and wasn't part of the act. Garrick realizes he's alienated the woman who has stolen his heart, and his grief begins to effect his performance as Don Juan. The Great Garrick also features Lionel Atwill, Edward Everett Horton, and Melville Cooper; a young Lana Turner has a bit part.
Critic Reviews for The Great Garrick
Audience Reviews for The Great Garrick
½
Pleasant little comedy with Aherne chomping into the hambone Garrick with much vigor. Keep a sharp eye out for a very young brunette Lana Turner as one of a gaggle of giggling girls in her second film appearance.
The Great Garrick Quotes
There are no approved quotes yet for this movie.