The Great Muppet Caper
(1981)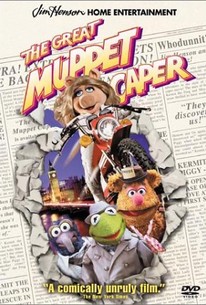 TOMATOMETER
AUDIENCE SCORE
Critic Consensus: The Great Muppet Caper is overplotted and uneven, but the appealing presence of Kermit, Miss Piggy and the gang ensure that this heist flick is always breezily watchable.
The Great Muppet Caper Photos
Movie Info
The Great Muppet Caper is the second Muppet film and it is considerably more complex than its predecessor, The Muppet Movie, which was essentially just a road movie. As the film begins, Kermit the Frog and Fozzie Bear are reporters who have failed to bag a story of a London jewel heist, which happened under their watch. The real criminals managed to escape and frame Miss Piggy as the thief. Kermit, Fozzie and the Great Gonzo set out on a mission to solve the mystery and track down the criminals who stole the Baseball Diamond. There are fewer star cameos and songs in The Great Muppet Caper than in The Muppet Movie, although appearances from John Cleese and Charles Grodin are particularly memorable. ~ Stephen Thomas Erlewine, Rovi
Critic Reviews for The Great Muppet Caper
Audience Reviews for The Great Muppet Caper
½
This second major Muppet production was a British - American collaboration and marked Jim Henson's directorial debut. Alas twas the only major Muppet movie to be directed by Jim Henson. So this movie was a caper, a crime caper, and it was set in England. The premise? Well there's a big jewel heist (in New York I think) and local reporters Kermit and Fozzie miss it. Because of this the duo get axed from their reporter jobs. Luckily they manage to talk their editor into allowing them to fly to England in order to investigate the crime and interview the victim, Lady Holiday (Diana Rigg). Upon reaching England the duo (plus Gonzo) team up with other Muppets and begin to unravel the crime despite only being reporters and not the police. Like the first Muppet movie I grew up with this one. This was a regular VHS weekend viewing type situation for many years (along with 'Superman 3'). So I will cut straight to the chase here and say that I prefer this second movie over the first. Yep, the rather odd intro of Kermit, Fozzie, and Gonzo landing in downtown Manhatten (?) in their hot air balloon for no real apparent reason. Where just moments before Gonzo was essentially contemplating suicide because it looked like fun. And upon hitting the ground a song and dance routine breaks out...just because. Is indeed all very off the wall, but its visually brilliant and a clear sign of what's to come. It's funny really. Where as the first movie had a really underwhelming plot, as far as I'm concerned, it was relatively grounded for the Muppets and needed some more wackiness. I put this down to the creative team behind the movie wanting to be a little safe for their first outing. Whereas this movie had a much more exciting plot which didn't really need too much crazy antics but it got a whole tonne of wackiness. Clearly the team had much more confidence this time around. I think the real highlight of this movie is the Happiness Hotel located on [i]Cheapside Street[/i] in west London. This is where many Muppets now reside as it appears to be mainly for Muppets that have no money. The hotel is typical old fashioned British manor house that is falling apart at the seams, complete with a rickety old double-decker tour bus. Most of the scene here are easily the best from the songs to the bedroom heist planning sequences. I love how the creative team utilised the building for Muppet hijinks; it's a typical Muppet-esque set scenario. There are plenty of other highlights to mention such as the fun yet extremely stupid robbery sequence at the end. Here the crooks (led by the rather uninspired choice of Charles Grodin) are sprung upon by all the Muppets as they try to steal the fabulous baseball diamond from a gallery. Again it's a typical Muppet-esque sequence that naturally makes no sense at all and has Muppets popping up all over the place despite being in random other places merely seconds before (or not even a part of the movie up to that point). The closeup shots and editing of each Muppet doing something utterly insane is glorious as they play a game of catch to keep the diamond away from the robbers. It's only when you get a revealing wide shot that everything looks stupid (dunno why they did that as it wrecks the illusion). Of course this is a Muppet movie so we have a whole string of cameos again, but this time we actually see a few of the creative team getting cameos. Jim Henson is in a blink and you'll miss it moment. Jerry Nelson and his daughter have a walkon moment, along with Frank Oz and Richard Hunt. Star wise Peter Falk has an amusing and decent sized cameo. Peter Ustinov pops up quickly. But by far the best must be John Cleese along with Joan Sanderson who team up together once again ([i]Fawlty Towers[/i]) to play familiar characters. I think one of the biggest negative points I have to raise here was that gosh darn romance between Miss Piggy and Kermit. They [b]really[/b[ lay this element on thick this time with the frog and pig getting loads of romance time which quite frankly becomes irritating. I've got nothing against frog and pig lovin' but holy felted balls it's in your face. Piggy never stops lusting after Kermit whilst the green one holds back for as long as he can before submitting to her advances. We then get some quite long scenes of slush such as the (now infamous) aquatic sequence with a swimming Piggy which is very well done but kinda stops the movie in its tracks for me. Its all done for giggles of course but my God its vomit-inducing, which is the entire point but...yeesh! Of course the movie is visually dated in terms of both ideas and styles of the time, which adds to the overall old English charm factor. Take that swanky club sequence, the clubs interior, what the feck was that?? It looked like the set of a sci-fi movie. The costumes and makeup are all gloriously top-heavy with early an 80's passion, whilst the sets do generally look like sets...but Muppet sets, which is cool. Not sure about the sequences where the Muppets are thrown out of planes when over the UK and US. Firstly they have to travel in the baggage hold which seems really cruel. And then when the plane is over the destination country a steward comes down and literally hurls them out of a hatch! That always kinda disturbed me as a kid and it still kinda does now. I think overall this Muppet movie is better than the original for the simple fact that the plot is far more engaging...despite still being a bit thin. There is definitely more punch with this movie, a more energetic vibe, more exciting with a small element of risk involved (but not really, obviously). The original movie had more sentimentality I think, this movie is more zany and madcap. It's not the best example of a Muppet movie but I think its probably the best of the early offerings with more colourful and funny sequences. Not forgetting that this movie introduced the new Muppet Rizzo the Rat and his rodent family. [i]'if we wanna get Miss Piggy out of jail we've gotta catch those thieves red-handed'[/i] [i]'what colour are their hands now?'[/i]
Phil Hubbs
Super Reviewer
The first Muppet movie was very focused on introducing characters and revolved around being a road movie, comedy. In this second of the Muppet films, our now established friends play various characters in a thriller concerning precious jewels being stolen from a fashion designer. Reporters Kermit and Fozzy must team up with a squadron of misfits and Miss Piggy in order to catch the culprits. The film respects its characters, but often makes a lot of in-jokes and meta references to the fact that the Muppets are playing characters, and also that Kermit and Fozzy are "identical twins" because they both wear hats. There are a lot of great musical numbers performed by the Muppets, including a water ballet routine by Miss Piggy in her true over the top fashion. The supporting actors are great, including a crotchety Charles Grodin, and an overly nice John Cleese, in a great cameo appearance. Wildly entertaining and certainly fun, the Muppets make yet enough grand old film.
Spencer S.
Super Reviewer
Of all the Muppet movies I've seen, I enjoyed this the least. I couldn't follow the plot at some points and the story just didn't intrest me. The Muppets solving a mystery just isn't my type. But there is still funny quotes and the movie has its moments. That is why I am giving this a 60%. Funny dialogue scene: (A truck driver is pushed out of his truck and is thrown next to a trach can. A person comes out of the garbage can next to him.) Truck Driver: "What are you doing here?" Oscar the Grouch: "A very brief cameo." Truck Driver: "Me too."
Bentley Lyles
Super Reviewer
The Great Muppet Caper Quotes
| | |
| --- | --- |
| Lady Holiday: | We have to make drastic changes in the new line before the show tomorrow - all my girls are going around looking like barn-yard animals. - good heavens, who are you? |
| Lady Holiday: | We have to make drastic changes in the new line before the show tomorrow. All my girls are going around looking like barn-yard animals. Good heavens, who are you? |
| Miss Piggy: | My name is Miss Piggy, and I would like to be a high-fashion model. |
| Miss Piggy: | My name is Miss Piggy and I would like to be a high-fashion model. |
| Lady Holiday: | Doesn't surprise me; seem to be the way we're heading. |
| Lady Holiday: | Doesn't surprise me. Seems to be the way we're heading. |
| | |
| --- | --- |
| Fozzie Bear: | Excuse me, Mr. Holliday. Would you let Kermit go? If you hold him too long he'll just give you warts. |
| | |
| --- | --- |
| Beauregard: | [driving a cab]You can call me Beauregard. where are you guys going? |
| Beauregard: | You can call me Beauregard. where are you guys going? |
| Kermit: | The happiness hotel. |