The Great New Wonderful
(2006)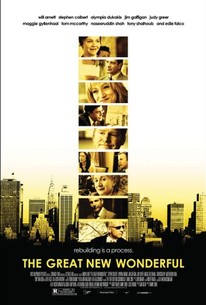 TOMATOMETER
AUDIENCE SCORE
Critic Consensus: Set in post-9/11 New York, this largely evocative dramedy interweaves the stories of five disconnected individuals who share an unspoken emotional malaise that shadows their attempts at returning to normal life.
The Great New Wonderful Photos
Movie Info
A collection of everyday New Yorkers struggle to carry on with their increasingly stressful lives a year after the city was forever changed by the 9/11 terrorist attacks in Brooklyn-native Danny Leiner's ensemble-cast slice of life. Dr. Trabulous (Tony Shalhoub) is a gifted psychologist with a special knack for truly understanding his patients. When an ordinary businessman (Jim Gaffigan) who has witnessed a terrible office tragedy seeks to gain the insight of the seasoned professional, Dr. Trabulous helps to release a hidden rage that has slowly been eating away at the man's troubled soul. Meanwhile, in the culinary world, Great New Wonderful pastry shop proprietor Emme Keeler (Maggie Gyllenhaal) is about to discover that unseating the woman known as the Queen of Cake (Edie Falco) doesn't come without some heavy consequences. Elsewhere in the city, troubled couple Allison (Judy Greer) and David Burbage (Tom McCarthy) fight to save their marriage and break through to their curiously overconfident ten-year-old boy. Avi (Naseeruddin Shah) and Satish (Sharat Saxena) are immigrants and best friends who work together as security guards and wander the city making observations about contemporary America until their opposing perspectives are challenged by an unexpected development in their lives that neither saw coming. And despite the comfort she takes in her daily routine, Julie Berman (Olympia Dukakis) discovers that her passion for life has long since died, until a visit with a childhood friend helps her to realize just what she's been missing all these lonely years.
Critic Reviews for The Great New Wonderful
Audience Reviews for The Great New Wonderful
Capitalizing on tragedy - blatantly and superficially. The script is too unspecific. It expects the audience to fill in the blanks of these characters' lives with our own interesting anecdotes and vocabulary. There's nothing insightful or different about these people. They're soooo regular. Just regular people dealing with 9/11. A slice of life that is too half-baked. I was hoping to like another Danny Leiner movie, but I guess the only similarity between this and H&K is the Indian demographic. In all seriousness though, I found Satish's and Avi's characters the most intriguing for their seamless melding of Hindi and English.
Alice Shen
Super Reviewer
Much less crappy than I thought it would be. A handful of good character studies done by good actors made it decent. Especially Tony Shaloub and his A-hole character that he always seems to play when he isn't Monk. Plus Judy Greer is nice to look at.
Curtis Lilly
Super Reviewer
½
[font=Century Gothic]Set in September 2002 in New York City, "The Great New Wonderful" consists of five separate storylines:[/font] [font=Century Gothic][/font] [font=Century Gothic]Satish(Sharat Saxena) and Avi(Naseeruddin Shah) are two bodyguards who go about their jobs.[/font] [font=Century Gothic][/font] [font=Century Gothic]Judy Hillerman(Olympia Dukakis) is hardly speaking to her husband, when she runs into an old school friend.[/font] [font=Century Gothic][/font] [font=Century Gothic]A boy, Charlie Burbage(Billy Donner), has been acting out again.[/font] [font=Century Gothic][/font] [font=Century Gothic]Sandie(JIm Gaffigan) is visited at work by a psychologist, Dr. Trabulous(Tony Shalhoub).[/font] [font=Century Gothic][/font] [font=Century Gothic]Emme(Maggie Gyllenhaal) is a high-end pastry chef.[/font] [font=Century Gothic][/font] [font=Century Gothic][/font] [font=Century Gothic]"The Great New Wonderful" is a too earnest take on a disparate group of New Yorkers. There is not a lot of story here. Instead, the movie tries to rely alone on mood to convey the state of New York City one year after the 9/11 attacks, but does not come close to succeeding even with a fine cast and some good thoughts about how life is precious.[/font]
The Great New Wonderful Quotes
There are no approved quotes yet for this movie.