The Great Santini
(1979)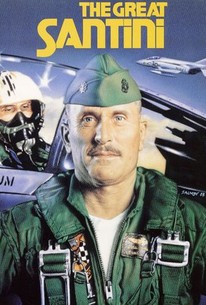 Movie Info
Bull Meechum (Robert Duvall) loves fighting almost as much as he loves the Marine Corps. Profane, cocky, and arrogant, he's a great fighter pilot -- and he knows it. His boss hates his guts, but knows that if he's going to straighten out his lagging squadron, Meechum is the man to do it. The story and irony of The Great Santini is in Meechum's total intolerance of family life and fatherhood. Meechum has a lovely, supportive wife, Lillian (Blythe Danner), an earnest, likeable son, Ben (Michael O'Keefe), three smaller children, and a good home, but Meechum finds the pastoral nature of peacetime totally incompatible with his gung-ho nature. So he begins to drink. He drills his family unmercifully, like recruits. He hammers his son relentlessly until, in a basketball game, his son fights back, and the family cheers Ben's efforts. Tension builds in the household until, during one drunken night, Meechum breaks down. Based on a best-selling novel by Pat Conroy, The Great Santini earned critical raves but fared poorly at the box office. Duvall's performance as Meechum is generally regarded as one of his greatest.
News & Interviews for The Great Santini
Critic Reviews for The Great Santini
Audience Reviews for The Great Santini
Duvall embodies cockiness to the nth degree as he sets unrealistic expectations for his offspring in living up to the greatness of Santini. It borders on annoying by the end but it is nonetheless a great character created.
John Ballantine
Super Reviewer
½
I thought the kid who played Benny was a bit much. It was a bit unbelievable. Otherwise, the movie was pretty good. Duvall's character was funny. Sad though!
Erin Collins
Super Reviewer
Underrated classic. Robert Duvall at his best.
Randy Tippy
Super Reviewer
The Great Santini Quotes
There are no approved quotes yet for this movie.