The Great St. Louis Bank Robbery
(1959)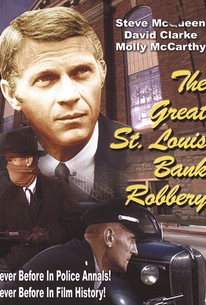 AUDIENCE SCORE
Critic Consensus: No consensus yet.
The Great St. Louis Bank Robbery Photos
Movie Info
Three career criminals and a young getaway driver (Steve McQueen) meticulously plan a bank heist. Every move is choreographed until the day of the actual robbery, based on a true story.
Critic Reviews for The Great St. Louis Bank Robbery
There are no critic reviews yet for The Great St. Louis Bank Robbery. Keep checking Rotten Tomatoes for updates!
Audience Reviews for The Great St. Louis Bank Robbery
Based on a true story, filmed where it happened and with many of the real-life participants, this heist film lays out the preparations the gang takes before making their first move as well as the divisions within the group. New to the gang is Steve McQueen who is in the middle of some very tough life decisions. This noir, though slow, does pack a punch.
Kevin M. Williams
Super Reviewer
This Movie is one of 10 in a Crime Wave Collection put out by Brentwood Home Video. The decent degree of realism plus one of Steve McQueen's earlier starring movie roles help make this crime feature worth watching. The story has some pretty interesting aspects, and it adds to the realism with the well-publicized inclusion of many of the actual police officers who were involved in the original events on which the movie is based. On the other hand, the rest of the cast does not come up to McQueen's stature as performers, and at times some potentially powerful scenes lack a little something as a result. The setup has McQueen's character hired as the getaway driver for a gang of bank robbers. Their careful planning is thrown into complications by an old girlfriend of George's (McQueen), whose brother is also part of the gang. The resulting tensions, plus the various unexpected developments as they carry out their plan, add some interest to the basic story. Many of the scenes are written and filmed rather well, although at times the movie expends some screen time on less interesting material. McQueen does a good job with an unsympathetic character, and the supporting cast is mostly solid. Molly McCarthy is believable and generally sympathetic as Ann, but she does not always give her character a lot of depth. Crahan Denton gives the gang's boss a good, solid persona at the beginning, but afterward the character remains rather one-dimensional even when there are chances to bring out some interesting characteristics. The straightforward, almost documentary style cinematography works pretty well, and makes a good combination with the downbeat story. Despite a few things that could have been better, this is not bad at all for its genre, and it is certainly worth seeing. 3 Stars 1-22-14
Bruce Bruce
Super Reviewer
The Great St. Louis Bank Robbery Quotes
There are no approved quotes yet for this movie.