Greedy
(1994)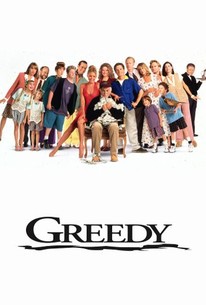 Movie Info
This comedy-drama follows the exploits of a family of vultures waiting for wealthy uncle to die. Uncle Joe McTeague though wheelchair bound, is mean, manipulative, fussy, and unpleasant. He is however, filthy rich. He is surrounded by three obsequious relatives who do everything they can to get on the heirless Joe's good side. They outwardly adore him bringing him stuffed birds, compliment him; they have even named their children for him. But the truth is, they hate his guts and he knows it. They don't like each other much either. They are united only by their love of his money. When they discover that he has hired a ravishing young woman to be his "nurse," they are panic stricken that she will get the inheritance. Together they hatch a plan. They will find his estranged favorite nephew Daniel McTeague Jr., son of Joe's left-wing brother. Daniel is best remembered for his cutesy imitations of Jimmy Durante. Daniel the man is now a struggling pro-bowler with an arthritic wrist. All he really wants is to open his own bowling alley, but he too becomes intoxicated by greed.
Critic Reviews for Greedy
Audience Reviews for Greedy
½
"Greedy is a great title for this film considering all the crazy money hungry characters that are in this flick. I remember seeing this a long time ago. I couldn't remember what it was all about, so I decided to give it another look. It's funny, silly, cheesy, and at times, acted poorly. Kirk and Fox are the stars of the show. They are great together on screen. Uncle Joe strategically puts his family members against each other to see how far they will go to try and win him over for his milions. There is always some kind of scheme going on whether it's coming from Uncle Joe or his crazy nieces and nephews. It was a fun watch. I wouldn't mind seeing it again later on down the road."
♥˩ƳИИ ƜѲѲƉƧ♥
Super Reviewer
½
Great wickedly funny comedy of heirs and Michael J. Fox & Phil Hartman were hilarious by fighting each other. Hartman is terrific as the nastiest family member.
Dean McKenna
Super Reviewer
Leigh Ryan
Super Reviewer
Greedy Quotes
| | |
| --- | --- |
| Daniel McTeague: | Look money's money.I need it just like everybody else but money's not going to turn me into some sycophantic,arse licking wacko. |
| Daniel McTeague: | Look, money's money. I need it just like everybody else, but money's not going to turn me into some sycophantic, arse-licking wacko. |
| | |
| --- | --- |
| Molly Richardson: | If I was having sex with your Uncle Joe he'd be dead by now. |
| Molly Richardson: | If I was having sex with your Uncle Joe, he'd be dead by now. |
| | |
| --- | --- |
| Daniel McTeague: | Your not broke are you Uncle Joe? |
| Daniel McTeague: | You're not broke, are you Uncle Joe? |
| Uncle Joe McTeague: | I'm richer than shit. |
| | |
| --- | --- |
| Daniel McTeague: | Goddamn it Frank.One more word out of you, I'll kick your arse so high up you'll have to take off your shirt to shit! |
| Daniel McTeague: | Goddamn it Frank. One more word out of you, I'll kick your arse so high up you'll have to take off your shirt to shit! |