Green for Danger
(1947)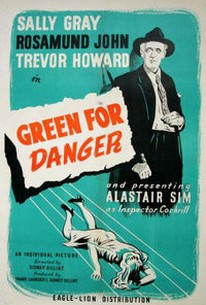 Movie Info
At a World War II emergency hospital, a postman dies under anesthetic during a relatively minor operation. One of the nurses who was present announces that the man's death was no accident, but a murder -- and then she, too, is murdered. The police are called in, led by Inspector Cockrill (Alastair Sim) of Scotland Yard, and he soon determines that any one of the five surviving members of the surgical team might have had a motive for the murders. In the course of his investigation, he also uncovers an array of both eccentric and ugly personal information about most of those present, but no killer that he can ascertain for certain. He must finally draw the murderer out by putting one of the suspects at risk. In the midst of the suspense are moments of droll comedy, of the sort that one would expect from a movie made by the authors of The Lady Vanishes, along with a palpably rich late wartime atmosphere which, surprisingly, did not repel war-weary audiences on either side of the Altantic. Indeed, Sim is so beguilingly witty and charismatic in his eccentric way as Inspector Cockrill, that the wonder is that there was never a follow-up movie or even a series built around his character. ~ Bruce Eder, Rovi
Critic Reviews for Green for Danger
Audience Reviews for Green for Danger
The film debut of Alastair Sim. What an actor! All the signs are here of the brilliant career ahead. Too bad he got started so late in life. Kind of like John Houseman and Richard Fansworth. Just wish they'd started sooner.
This is a delightful whodunit, really, thanks to Sim's acting. Definitely a different kind of murder mystery.
Lanning : )
Super Reviewer
Kinda felt like someone was reading a story to me in lieu of watching a movie. Found it more enjoyable for its funny moments than the whodunit part. IMO, the whodunit part was the weakest link of the movie. The actors were incredibly terrific, though, which provided quite a lot of relief.
familiar stranger
Super Reviewer
½
Excellent whodunit in the English fashion. Terribly reserved and proper with tight direction, good perfomances and a wonderful one from Alastair Sim as the inspector.
Green for Danger Quotes
There are no approved quotes yet for this movie.