Green Lantern
(2011)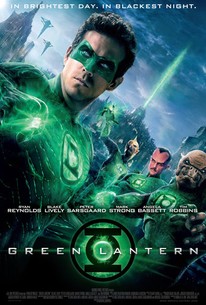 TOMATOMETER
AUDIENCE SCORE
Critic Consensus: Noisy, overproduced, and thinly written, Green Lantern squanders an impressive budget and decades of comics mythology.
Movie Info
In a universe as vast as it is mysterious, a small but powerful force has existed for centuries. Protectors of peace and justice, they are called the Green Lantern Corps. A brotherhood of warriors sworn to keep intergalactic order, each Green Lantern wears a ring that grants him superpowers. But when a new enemy called Parallax threatens to destroy the balance of power in the Universe, their fate and the fate of Earth lie in the hands of their newest recruit, the first human ever selected: Hal Jordan (Ryan Reynolds). Hal is a gifted and cocky test pilot, but the Green Lanterns have little respect for humans, who have never harnessed the infinite powers of the ring before. -- (C) Warner Bros
Critic Reviews for Green Lantern
Audience Reviews for Green Lantern
½
Green Lantern seems to be that one superhero movie that everyone seemed to hate and was extremely panned by critics, and to be honest I don't really see anything really insanely bad about it like everyone else. While yes I think Ryan Reynolds as Hal Jordan is a strange choice and feel more like he could play the Flash more than the Green Lantern, one of my favorite Superheroes but he does the role actually pretty well in my mind and he is pretty funny IMO. Many of the actors actually do pretty good jobs too, except for two, Tim Robbins and Peter Sarsgaard. While I love Robbins in films like Shawshank Redemption, he really is given almost nothing to work with in this film at all, he is mainly just there and does almost nothing the whole film and Sarsgaard is just so obnoxious in the movie and really just feels almost pointless and especially since he was not really as involved or as big of a villain in the comics (I did like how he had a Pokemon Sapphire game in his house which was pretty funny). The effects in the film also all look great especially the fantastic designs of all of the different Lanterns during the scene where all the lanterns meet to discuss the problem of Parallax, which he is a fantastic effect in and of itself (plus it was awesome to have Clancy "Mr. Krabs, Mr. Freeze" Brown play him).
Michael Edwards
Super Reviewer
½
I'm surprised to see that so many people hated this movie, since it is not bad but rather an entertaining superhero movie (despite an irregular CGI) with good dialogue and decent acting, especially from Peter Sarsgaard, who seems to be having a lot of fun as the bad guy.
Carlos Magalhães
Super Reviewer
½
Not just fear ... but fear from space, space fear, yellow-colored space fear threatens home sweet home ... what's a world to do? Luckily, our hero enters: the jock next door, more irreverent than Mad magazine, able to leap over discarded girlfriends with a single bound, and that's only his entrance. There's fun to be had as this superhero dreams his power up on the spot, if only the work had been better thunk out. Its a summertime movie, so whatever.
Kevin M. Williams
Super Reviewer
Green Lantern Quotes
| | |
| --- | --- |
| Dr. Hector Hammond: | Well, I used to fight my fears. But now that I've tasted its true power, I'll never go back! |
| | |
| --- | --- |
| Parallax: | You are afraid. Good. |
| | |
| --- | --- |
| Hal Jordan/Green Lantern: | Hey, Carol. Was gonna do a little flying today. What do you think? |
| Carol Ferris: | I think you're late. |
| Hal Jordan/Green Lantern: | Yes, that's only because I slept in. |
| Carol Ferris: | I used to sleep in. Then I turned 11. Let me give you a little heads-up. I've gone up against these Sabres all week and they have smoked me every time. There isn't anything that you can do that they can't do better, faster and without disappointing women everywhere. |
| Hal Jordan/Green Lantern: | I, uh, think we both know that's not true. |
| Carol Ferris: | This is exactly why I didn't want you for this. My father did. I would've gone with Jensen. |
| Hal Jordan/Green Lantern: | I'd have gone for Jensen too. But unfortunately, he's busy not being good enough. |
| Carol Ferris: | At least he shows up. Hal, this test today, it's important. |