Green Lantern: First Flight
(2009)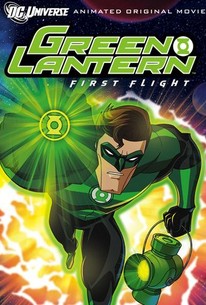 Green Lantern: First Flight Photos
Movie Info
The creators of Superman: Doomsday, Batman: Gotham Knight, and Wonder Woman re-team to tell the origins of the Green Lantern in this animated DC Comics feature. When Hal Jordan (voice of Christopher Meloni) is recruited to join the Green Lantern corps, he is placed under the direct supervision of senior Lantern Sinestro. But the Green Lantern corps has come under attack by a powerful foe. When Hal discovers that Sinestro is actually part of a vast conspiracy that aims to dismantle the entire organization, he must use his newfound powers to restore order and combat the treason that threatens to tarnish the Green Lantern legacy.
Critic Reviews for Green Lantern: First Flight
Audience Reviews for Green Lantern: First Flight
I had the "joy" of seeing the live-action GL movie before FF and I have to say, this is an overall improvement for sure. Which only goes to show that DC can't do live-action to save their lives without getting lucky. (Nolan on Batman) Anyway, First Flight works like a galactic, buddy-cop movie with high SciFi concepts. Overall? Solid animation and an engaging story, with a DBZ-like finale to boot! I just wish more time was spent developing/exploring Hal's character what with this being an origin movie. In fact, it might as well be named "Sinestro's fall"
Drake Tsui
Super Reviewer
½
What's better than cartoons on a lazy weekend morning? Been seeing previews for "Green Lantern" which comes out in June, and I'm on the fence about it. I don't know much about the character, and the movie looks pretty cheesy, so I figured I'd give this a watch and see how I liked it. It's not bad, very different from other super hero characters/movies, but has the same values(always good against evil). This is basically an origin story(as I'm sure the movie will be too), with some good twists and turns. It's on the cheesy side, but overall better than I thought beforehand. I'll warn parents(hey, I'm gonna be one soon) this has some cussing in it, not really for little kids(think it's rated PG-13). The animation is good, and the story is decent enough. Based off this cartoon, I'm more inclined to want to see the movie when it comes out, figure if my expectations remain pretty low I can't be too disappointed.
Everett Johnson
Super Reviewer
Good movie. I can now understand alot better where Green Lantern came from and I'm ready to see the new film coming up with Ryan Reynolds as Green Lantern. Christopher Meloni (TV's Law & Order: Special Victims Unit) leads the cast as the voice of Hal Jordan aka Green Lantern. The cast includes Emmy Award nominee Victor Garber (Milk, Titanic), Tricia Helfer (Battlestar Galactica) and Michael Madsen (Reservoir Dogs, Species). Produced by animation legend Bruce Timm, Green Lantern: First Flight is directed by Lauren Montgomery (Wonder Woman, Superman Doomsday) and scripted by four-time Emmy Award-winning writer Alan Burnett (The Batman). Green Lantern: First Flight finds test pilot Hal Jordan (Christopher Meloni) recruited to join the Green Lantern Corps after the death of his predecessor Abin Sur and placed under the supervision of respected senior officer Sinestro (Victor Garber). The newly recruited officer of sector 2814 soon discovers his mentor is actually the central figure in a secret conspiracy that threatens the philosophies, traditions and hierarchy of the entire Green Lantern Corps. Hal must quickly hone his newfound powers and combat the treasonous Lanterns within the ranks to maintain order in the universe. According to director Montgomery, the film will not focus on Jordan's origin story as that was previously covered in the Justice League: The New Frontier film: "...we really didn't want to spend a whole lot of time telling that same story over again. So in Green Lantern: First Flight, the origin story is over and done before the opening credits.
Green Lantern: First Flight Quotes
There are no approved quotes yet for this movie.