The Green Mile
(1999)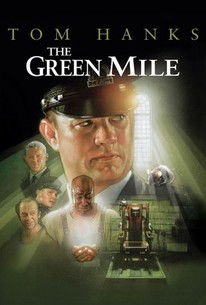 Movie Info
Director Frank Darabont, who made an acclaimed feature film debut with The Shawshank Redemption (1994), based on a Stephen King novel set in a prison, returns for a second feature, based on King's 1996 serialized novel set in a prison. In 1935, inmates at the Cold Mountain Correctional Facility call Death Row "The Green Mile" because of the dark green linoleum that tiles the floor. Paul Edgecomb (Tom Hanks) is the head guard on the Green Mile when a new inmate is brought into his custody: John Coffey (Michael Clarke Duncan), convicted of the sadistic murder of two young girls. Despite his size and the fearsome crimes for which he's serving time, Coffey seems to be a kind and well-mannered person who behaves more like an innocent child than a hardened criminal. Soon Edgecomb and two of his fellow guards, Howell (David Morse) and Stanton Barry Pepper), notice something odd about Coffey: he's able to perform what seem to be miracles of healing among his fellow inmates, leading them to wonder just what sort of person he could be, and if he could have committed the crimes with which he was charged. The Green Mile also stars James Cromwell as the warden; Michael Jeter, Sam Rockwell, and Graham Greene as inmates awaiting dates with the electric chair; and Harry Dean Stanton as a clever trustee. ~ Mark Deming, Rovi
Critic Reviews for The Green Mile
Audience Reviews for The Green Mile
½
A brilliant moving film with great actors based on a Stephen King story.
½
Some of the supporting characters are a little two-dimensional, but 'The Green Mile' is an incredibly effective prison drama with terrific performances and a script that deals with grief in an innovative and emotionally resonant way.
½
The Green Mile is an amazingly soulful movie that features strong acting from an incredible cast. Frank Darabont directs another prison movie with style and humanism. He rarely directs films, but when he does they are usually knockouts (including the Shawshank Redemption & The Mist). Michael Clarke Duncan gives a simply wonderful performance here that rightfully got nominated for an Oscar. The fact that he died prematurely makes this even more of a heart-wrenching story to me. Tom Hanks is his reliably likable self and the rest of the cast is made up of good character actors. I thought most of the characters in this film were memorable. It's really hard to explain to someone without giving details away, but for first-timers this film will surprise you. The 3 hour run time seems long, but this film could not have been better paced. I never found myself checking the time. This is a classic that deserves to be seen.
Josh Lewis
Super Reviewer
The Green Mile Quotes
| | |
| --- | --- |
| John Coffey: | I'm sorry for what I am. |
| | |
| --- | --- |
| Warden Hal Moores: | What in the blue fuck was that? There's puke all over the floor. God, that smell. That smell won't come out for another 5 years that what I'm betting. And that asshole, Wharton is singing about it. |
| Paul Edgecomb: | Did he carry a tune, Hal? |
| Warden Hal Moores: | Ok, boys. But, what the hell happened? |
| Paul Edgecomb: | An execution sir. A successful one. |
| Warden Hal Moores: | How in the name of Christ can you call that a success? |