The Green Promise
(1949)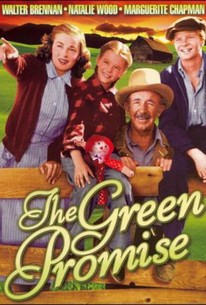 AUDIENCE SCORE
Critic Consensus: No consensus yet.
Movie Info
A mule-stubborn farmer is determined to avoid modern technology and nearly destroys what is left of his family in this moving drama. The farmer is saddled with raising his four kids alone and insists on being ruler of the roost in every way. He steadfastly refuses any talk of modern technology when it comes to farming. When his oldest daughter gets a suitor and his youngest tries to join the 4-H club, the father nearly goes on the rampage. He eventually is forced to change his tune when he is injured and unable to work. While recovering, his eldest daughter takes over and begins using some of the new techniques. Sure enough, the farm becomes a success and the father finally sees the light and mends his ways, bringing pastoral happiness to his home.
Critic Reviews for The Green Promise
All Critics (3) | Top Critics (1) | Fresh (1) | Rotten (2)
Nothing pretentious, it turns out to be a refreshing slice of country life.

An indifferent "trouble on the farm" melodrama with a message...chiefly valued today for reminding us of what a remarkable child star young Natasha Zacharenko (Natalie Wood) was.
Audience Reviews for The Green Promise
½
Something made for the bottom of a double bill this B movie is mostly of interest for the appearance of Natalie Wood who at seven still stands out as the most charismatic of the players. This is the film where her life long fear of water was born when she was swept away during a stunt that went awry. Walter Brennan is also good as a faux democratic father who sees the error of his ways almost too late until the 4H club comes in and saves the day!
The Green Promise Quotes
There are no approved quotes yet for this movie.