The Green Slime
(1969)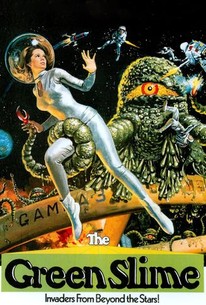 Movie Info
Astronauts unwittingly bring some alien goo aboard their spacecraft, and the stuff quickly begins mutating into murderous monsters.
Critic Reviews for The Green Slime
Audience Reviews for The Green Slime
A rip off of 2001: A Space Odyssey, even the title sequence is dreadful, so cheaply made with a horrible song attached to it, extremely forcefully used high pitch noises ain't helping you to make the movie any scarier. The acting was wooden, the props were badly made, the costumes... possibly the worst aspect of film other than the less than frightening monster. If this was purely made in Japan with only Japanese actors it might have been good, but finding a bunch of Europeans making a Gozilla like film just doesn't work. By the way, the main title is incorrect as there are no slimes, the alternative title: Gamma 3: Operation Outer Space is slightly better.
Sylvester Kuo
Super Reviewer
I thouroughly enjoyed this late 60's sci-fi romp. While obviously flawed by finiancial restraints, it is still pretty obvious that the filmmakers wanted to make an exciting and entertaining film, and wouldn't let finances hold them back from doing so, for better or worse depending on your aesthitical preferance. The story is pretty generic of the alien genre. A spaceship becomes contaminated with an Alien lifeform, that multiplies rapidly, especially when made to bleed, making it difficult to kill. It is up to the crew to battle this extraterrestrial flow, but first they must get past their own power struggles and ill feelings for each other. Sounds like Alien, and indeed is reminicent of Alien but with a fraction of the budget. I was psyched to see Luciana Paluzzi in the main female role (she was the sexy Redhead from the James Bond flick Thunderball.) Don't get too excited though, this is a PG movie. Has an awesome soundtrack as well. A lot of people on Flixster seem to hold this movies obvious flaws against it a lot harder than I would. Not really sure why anyone would watch this kind of movie expecting it to be anything but what it is. I guess things can be summed up by saying, if you enjoy low budget Sci-Fi of the 60's there is a lot to enjoy here. If you don't then you won't. I had a great time with this, so where I stand on that fence is pretty obvious. Recommended.
Ed Fucking Harris
Super Reviewer
I waited and waited for this movie to come on television after weeks of ads in the 1970's, and it did not disappoint. Firstoff, the title is not true. There is no slime in this movie. The aliens have tentacles and are electric. The title infers a blob-like movie. Wrong. It sorta reminded me of the Space 1999 two-parter "Dragon's Domain". Lots of astronauts were tentacled by the "Green Slime" aliens which had invaded their base. It had a very Japanese B-movie feel to it. Lots of action, but not very scary. Many cheese scenes, but watching it with a light-attitude, it can be fun.
Lafe Fredbjornson
Super Reviewer
The Green Slime Quotes
There are no approved quotes yet for this movie.