Greetings From Tim Buckley
(2013)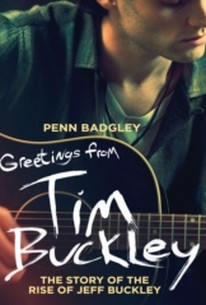 TOMATOMETER
AUDIENCE SCORE
Critic Consensus: Slight yet resonant, Greetings from Tim Buckley honors a family's musical legacy while offering Penn Badgley a remarkable opportunity to display his dramatic gifts.
Greetings From Tim Buckley Photos
Movie Info
In 1991, a young musician named Jeff Buckley (Penn Badgley, "Gossip Girl," MARGIN CALL) rehearses for his public singing debut at a Brooklyn tribute concert for his father, the late folk singer Tim Buckley. Struggling with the legacy of a man he barely knew, Jeff finds solace in a relationship with an enigmatic young woman (Imogen Poots, 28 WEEKS LATER) working at the show. As they explore New York City, their adventures recall glimpses of Tim's (Ben Rosenfield) own 60s heyday, as he drives cross-country with a girlfriend and finds himself on the verge of stardom. Leading up to the now-legendary show that launched Jeff's own brilliant career, GREETINGS FROM TIM BUCKLEY is a poignant mirror portrait of father and son, two of the most beloved singer-songwriters of their generations. -- (C) Tribeca
News & Interviews for Greetings From Tim Buckley
Critic Reviews for Greetings From Tim Buckley
Audience Reviews for Greetings From Tim Buckley
½
Oh, Jeff Buckley was indeed the spitting, '90s-esque interpretation of his father, and I've always had enough trouble calling him "TimBuckTwo" without him doing a set of his father's songs, but I think I'm going to back off of that, as cheesy puns is not helping ease the suffering of either the Mali city of Timbuktu or, for that matter, the Buckley family. Look, let's just call it as it is, "Greetings from Tim Buckley... and Beyond the Grave"! Oh, come on, it's hard to not think of that, considering that this film is about that neat little 1991 performance in which Jeff Buckley sang in the place of his father, which is ironic in retrospect, as Jeff didn't live that much longer than his father. Ah, the tragedies of Tim and Jeff Buckley are considerable, as both of these musicians were artists who never quite saw full recognition... so it's only fitting that this film also be so low in profile that no one is keeping up with it. Shoot, this film makes the Buckleys look like pop sensations, in terms of popularity, because no one is talking about this project. Well, I can't say I'm too surprised, because this film is evidently so uninteresting that I had to resort to making an unbelievably bad Timbuktu pun because I can't think of much to talk about in regards to this film. No, folks, I like this film and find it adequately intriguing, even if it doesn't offer much material to talk about, with what topics of discussion there are often being not all that flattering to the final product. The film interprets potentially refreshing subject matter with hardly anything new in the way of material, which often devolves into bona fide trappings which betray the sense of realism of this subject matter with a sense of cinematic manufacturing to storytelling. This sense of manufacturing isn't exactly helped by moments in characterization that are hard to fully buy, from such questionable scenes as an obnoxiously fluff one involving a mocking singing session by Jeff Buckley in the middle of a record store, to histrionics to what depth there is to this drama. Perhaps the histrionic approach to actual scenarios would feel more genuine if this film felt more fleshed out, as immediate development is lacking and gradual exposition is thin, as if writers Daniel Algrant, Emma Sheanshang and David Brendel expect you to already feel associated with recognizable real-life figures. To be such a meditative character study, this film boasts a sense of underdevelopment that grows all the more glaring the more storytelling wastes opportunities for characterization on mere meanderings, which bloat the film with draggy, maybe even aimlessly repetitious material that is bland enough without a certain directorial coldness to the air. When Algrant, as director, doesn't liven things up to a certain degree with a still rather dry folksy soundtrack, his storytelling gets to be subdued to the point of being kind of cold, if not dull, though not exactly to the point of abandoning a perhaps overly weighty sense of ambition. The ambition charms, of course, and often ignites true inspiration, but the desire to make an ethereal character study gets to be carried away, plaguing momentum with a limpness that is exacerbated by some questionable and undercooked writing elements, until the final product falls as underwhelming. Regardless, this film certainly endears, ultimately engaging adequately, no matter how far it falls shy of potential, which is very much there. The film is backed by a minimalist, but still interesting story concept that meditates both on how Jeff Buckley lived his life and interpreted his father, and on the youth of Tim Buckley himself, thus making for an intriguing idea that is betrayed by flawed scripting, which still has its fair share of strengths. Daniel Algrant's, Emma Sheanshang's and David Brendel's writing is formulaic and uneven in pacing, with limited expository depth and even some histrionics, or at least questionable aspects, but it's still reasonably comfortable enough in its structuring of the flashback, Tim Buckley segments to avoid focal inconsistencies, while keeping things going more with plenty of sharp dialogue that sustains a degree of liveliness. Less lively and more thoughtful is Algrant's direction, which may often be blandly ethereal, but attracts with a subtly handsome visual style, in addition to enough genuineness to the thoughtful storytelling to draw a degree of resonance. Of course, the direction may be most engaging when it utilizes the predominantly Tim Buckley soundtrack, whose tracks are rather dry by their own right, but genuinely written and performed folk classics that add to the heart of this film, as well as some entertainment value. Really, there's just not that much to compliment here, but the subtle storytelling strengths have a certain charm about them, as well as some effectiveness, though not as much as the performances. Granted, the performers only have so much to work with, but they succeed greatly in complimenting the human core of this factual character study, and that especially goes for leading man Penn Badgley, who captures the dry charm of a subdued, but still approachable Jeff Buckley, until incorporating some genuine emotive layering to capture the depths that Buckley was well-known for as a sharp, but flawed artist. Badgley is among the more worthy sellers of worthy subject matter, but he's not the only inspired force in a flawed, but heartfelt drama that engages enough to do justice to the late artists it pays tribute to, even if it does only so much justice to its full potential. In the end, formulaic and sometimes rather histrionic, as well as undercooked and draggy, maybe even near-dully dry storytelling betray the full potential of promising subject matter and render the final product underwhelming, but the point is that this is a worthy story which is done enough justice by some written and directorial sharpness, a solid soundtrack and engaging performances - particularly the one by leading man Penn Badgley - for "Greetings from Tim Buckley" to stand as a charming and sometimes portrait on a well-known estranged father and son in the folk music business. 2.5/5 - Fair
Cameron Johnson
Super Reviewer
Greetings From Tim Buckley Quotes
There are no approved quotes yet for this movie.